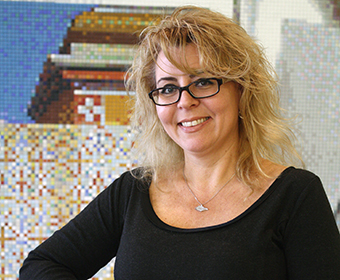 (May 3, 2019) — UTSA Provost and Vice President for Academic Affairs Kimberly Andrews Espy today announced the reorganization of leadership responsibilities within Academic Affairs to increase the number of K-12 college-going students and to facilitate community college transfers to meet state goals. Chiefly, Margo DelliCarpini has been appointed vice provost for strategic educational partnerships, effective May 1. DelliCarpini will serve as vice provost in addition to her role as dean of the College of Education and Human Development.
With these reorganized responsibilities, DelliCarpini will develop new programming to increase college-going and advance access to higher education in the San Antonio area, and she will align and expand existing educational outreach and retention programs previously administered under P-20 Initiatives, including the Dual Credit Program, UTSA Ready, the Prefreshman Engineering Program (in collaboration with the College of Engineering), TRiO Upward Bound and TRiO Educational Talent Search, and others. She also will oversee UTSA Child Development Center to infuse academic programming and UTSA student engagement in the Center's mission and activities.
"Dean DelliCarpini has done an outstanding job leading the College of Education and Human Development.  With these additional responsibilities, Dean DelliCarpini can lead UTSA in achieving our full potential to expand the pipeline of students who pursue higher education by reaching communities and populations that will benefit from greater interactions and more seamless integration with the university in order to advance social and economic transformation," said Espy. "In addition to strengthening our current programs and partnerships, she will develop new, innovative efforts to broaden and deepen our engagement with communities and also enhance collaborations within the university to strategically and cohesively align our pipeline engagement efforts."
As example, DelliCarpini will collaboratively plan and establish the Westside-UTSA Alliance, a community partnership to facilitate college-going in San Antonio's Westside Neighborhoods, and then potentially expand the model to other communities in San Antonio. She also will work in partnership with the UTSA college deans to create PREP-like programs in other academic colleges.
Relative to this restructuring, Joseph Kulhanek, associate vice provost for strategic enrollment, now will oversee the university's undergraduate recruitment efforts within the Division of Strategic Enrollment.  He will manage all freshman and transfer recruitment efforts as well as new student onboarding, including Orientation and Family Programs, Welcome Center and Special Events, to help increase the new undergraduate student population and reach university enrollment goals outlined in the Strategic Enrollment Plan.  Kulhanek will continue to manage community outreach to include group tours, the Mobile Go Center, the Parent Engagement Program, and the Center for Military Families.  Additionally, he will partner with Texas community colleges and college deans to build new transfer academies designed to increase the academic success of transfer students. 
Part of his responsibilities will be working closely with Transfer and Transition Student Success Services, a new area within the Division of Student Success that will be led by Barbara Smith. The goal of Transfer and Transition Student Success Services is to create pathways for students to come to UTSA and to support the university's transfer student population. In collaboration with Strategic Enrollment and also the First-Generation and Transfer Student Center, the unit will provide specific programming and tailored services to transfer students and students transitioning to UTSA through programs such as Alamo Runners and Alamo On-TRAC, as well as non-degree-seeking students and postbaccalaureate students. The area also will be responsible for academic advising for transfer students, articulation agreements and transfer plans with community colleges and other partners, and the Transfer Ambassadors/Mentoring Program.
"These organization changes will allow us to more strategically build community and school partnerships, and I'm grateful to Margo, Joseph, Barbara and their teams for enthusiastically embracing this opportunity to better serve our current and prospective students and our communities," said Espy.