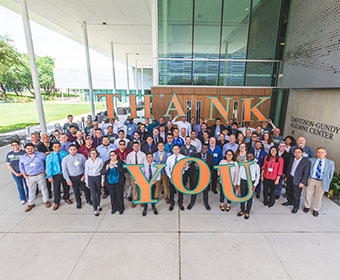 (May 30, 2019) -- The UTSA Tech Symposium winning team recently competed and won in a regional Electrical and Computer Engineering senior design competition sponsored by UT Dallas. Presented by Würth Elektronik, the inaugural ExCEllence in Senior Design showcase brought the top-rated university design teams in the southwest to face off against one other and be judged on their design accomplishments and presentations. Each school could only select one senior design team, their highest rated, to participate in this competition.
Allen Herrera, Rembrandt Bukowski, Miles Martinez, and Justice Montes represented UTSA and won the Entrepreneurial Award for their presentation, as determined by a panel of 16 judges selected from various local companies in Dallas. The projects are the culmination of the engineering undergraduate studies, to apply the knowledge and skills they have accumulated throughout their programs to design, develop, and implement innovative and relevant engineering products in their last and senior year.
>> Watch the UTSA Daedalus Automatic Weapon Detection System presentation.
The team decided to focus on detecting concealed and unconcealed weaponry using real-time surveillance footage, infrared images and applying deep learning analytics. This direction was reached in collaboration with Raymond Choo, UTSA associate professor of information systems and cybersecurity and Cloud Technology Endowed Professor, and an NSA Texas team with whom Choo had been collaborating. The NSA Texas team provided ongoing mentorship and advised them throughout the project life cycle. This relationship was made possible by the signing of a CRADA between the NSA with UT System last year.
Herrera, Bukowski, Martinez and Montes designed and built a working prototype of an Automatic Weapon Detection System (AWDS) they called Daedalus. In Greek mythology, Daedalus, father of Icarus, was an inventor and craftsman and was deemed the original innovator.
Daedalus is a security package that can automatically detect concealed and unconcealed weapons using current CCTV technology and an infrared (IR) camera sensor. Once a weapon is detected, an alert with the image and video is streamed to a mobile application reducing response time and improving situational awareness. Potential customer segments include law enforcement, security departments in schools, airports and other public areas.
"It can be very chaotic during an active shooting. By identifying credible threats in real-time, our solution can save seconds, and possibly minutes, which is critical to saving lives in this type of situation," said Herrera at a recent demonstration of their technology at the UTSA National Security Collaboration Center.
Future plans for Daedalus are being discussed. Other modules and functionalities are under consideration while facial recognition can also be implemented within the system. With this first phase, the system may prove to be more cost effective than other available solutions on the market currently. With positive feedback and suggestions from NSCC partner ARL South Cyber, the future is bright for Daedalus.
The team graduates this semester: Herrera, Bukowski and Montes are off to graduate school at UTSA while Martinez has already secured a position at AT&T in Dallas.