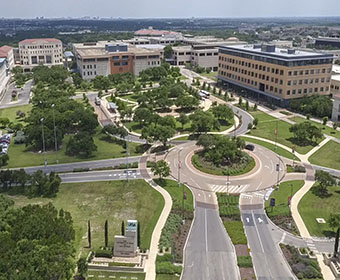 (May 10, 2019) -- UTSA President Taylor Eighmy today announced a restructure of External Relations functions into two new offices: Development and Alumni Relations and University Relations. The new structure will be effective on June 1.
"When a vice president leaves the university, it provides an opportunity to re-evaluate our organizational structure for potential operational improvements," Eighmy said today in an email sent to faculty and staff. "In light of Marjie French's departure last month, I have had the chance to take a fresh look at the functions within our External Relations office and assess the leadership needed to advance UTSA's efforts in these essential areas. It is particularly critical that we have the right structure in place to position UTSA for success in our next capital campaign."
Development and Alumni Relations will encompass all of UTSA's fundraising functions and oversee relationships with donors and alumni. UTSA will embark on a national search for a new vice president for this area, which will be run by Lois L. Lindauer Searches under the direction of a search committee comprised of faculty, staff, students and external partners and chaired by Mary Diaz, Chief of Staff in the Office of the President. Until the new vice president is hired, this office will continue to be led by Karl Miller-Lugo in his interim role as Special Assistant to the President for Development and Alumni Relations.
To best align their work with efforts around research excellence, the Corporate and Foundation Engagement team will formally coordinate with the Vice President for Research, Economic Development and Knowledge Enterprise, while continuing to report to the Vice President for Development and Alumni Relations.
University Relations will house staff dedicated to community relationships, including work to build alliances with federal, state, city and county elected officials. The University Communications and Marketing and Presidential Communications and Special Projects teams will round out this new office for a focused approach to reaching UTSA's many stakeholders and audiences.
Diaz will serve as Interim Vice President for University Relations—in addition to her Chief of Staff role—as the university launches a national search for a permanent vice president. In the days ahead, a search committee comprised of faculty, staff, students and external partners will be named. It will be chaired by Veronica Mendez, Vice President for Business Affairs. The university will not engage an external firm for this search due to its in-house expertise.
These two new offices place additional focus on areas that are vital to UTSA's future growth and 10-year vision.
"All our big dreams depend on additional funds for infrastructure and student success, stronger relationships with our alumni base across the country, and more support from federal, state and local elected officials," said Eighmy. "I am grateful to the staff within these two areas for the work they do every day to enhance our community partnerships and continue to tell our story in a powerful way, and I look forward to seeing them continue to excel within this new structure."