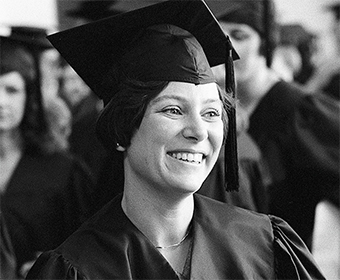 Editor's note: This article was originally published in Sombrilla Magazine in Fall 2009.
(June 14, 2019) -- Peggy Jo Tholen has been an elementary school teacher for close to 30 years; the woman has simple addition and subtraction down pat. So while she was gracious and willing to talk to me when I called to get her recollections of the university's beginnings as part of our 40th anniversary coverage, she was pretty sure I had my years wrong.
"According to me, though, it's not 40 years yet," she says. "Isn't that a couple of years away?"
Because while folks here on campus are counting from when the Texas Legislature established the university in 1969, Tholen counts from 1973, the year UTSA offered its first classes. In fact, on June 5, 1974, Tholen was in Austin blowing out the candles on UTSA's first birthday cake with Dolph and Janey Briscoe. Why did she get the honor of sharing cake with the governor and first lady? Because Peggy Jo Tholen was UTSA's first student.
>> Read the rest of this story and relive other memories from UTSA's history as we celebrate UTSA's 50th Anniversary.