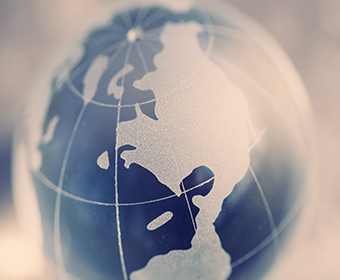 (June 10, 2019) -- To prepare students for success in today's world, which is more interconnected and globalized than ever, The University of Texas at San Antonio (UTSA) will offer a new master's degree program in Global Affairs beginning in Fall 2019. The program, which will draw on the university's existing faculty expertise, will be one of few of its kind in Texas.
Located in a border region, San Antonio has always been an international city. With its deep cultural heritage, diverse communities, unique geography and a demographic population that mirrors what most other major cities in the nation are expected to see in the coming decades, San Antonio is designated to become America's Global City in the future.
At a time of rapidly increasing globalization, there is a growing need for graduates who show competencies in and familiarity with global affairs. UTSA's new degree program will support the expressed commitment to be an urban serving university with a global outlook and empower students to become global citizens.
UTSA's M.A. in Global Affairs is one of few programs of its kind in Texas. Featuring a track in Global Security and a track in Global Development and Human Rights, students in the program will choose how they want to engage with global affairs.
As they study the multi-faceted nature of interrelationships among state and non-state actors in the global system, they will engage with the program's theme, which discusses whether world politics are in a transitional state increasingly formed by political, economic, social and cultural forces beyond the state or whether it remains shaped by the interplay of states.
Students in the program will have the opportunity to pursue their interest in international politics while being exposed to rigorous theories of global affairs. They will further develop critical thinking skills and hone their writing and public speaking abilities. Most importantly, they will learn to analyze complex systems and provide solutions for pressing issues as they assume leadership roles in local, federal, national or global contexts.
Graduates of the program will be prepared to pursue careers in government and public service, in intelligence or with the military, in international organizations, in non-profit and advocacy groups, in international business, or in media and education.
With student opportunities such as research practicums, study abroad programs, Model United Nations, and other extracurricular activities, UTSA's new program will emphasize placement and allows students to tailor their own experience.
"As a national trend, more and more, we are seeing specialized degree programs offered within what used to be traditional disciplines." says Andrea Aleman, graduate advisor of record in the Department of Political Science and Geography. "This helps students pursue their interests and start their careers right after graduation." 
The new M.A. in Global Affairs will be hosted by the Department of Political Science and Geography in the College of Liberal and Fine Arts. Located at the UTSA Main Campus, the department hosts multiple bachelor's programs and two other master's programs.
UTSA will be accepting applications to enroll in the new graduate program in Fall 2019 through July 1. Competitive scholarships and assistantships are available. Individuals with a bachelor's degree in political science or international relations or a bachelor's degree in a related field (sociology, economics, geography, statistics, public policy and health) are encouraged to apply.