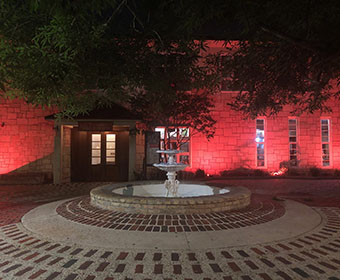 (June 2, 2019) -- Landmarks, monuments and businesses across Downtown San Antonio will display orange lights from Monday, June 3 through Sunday, June 9 to celebrate the 50th anniversary of the founding of The University of Texas at San Antonio (UTSA). Light the City Orange will honor UTSA's impact on the city including the remarkable events and people that have built an institution of excellence. 
"UTSA has been an integral part of San Antonio's fabric for 50 years. Their contributions to the community through workforce development and research have made our city shine bright. We're proud to light the skyline orange to honor our Roadrunners," said City Manager Erik Walsh. 
Many Downtown participants have already committed to partake with lighting and pageantry thanks to the unified efforts of Centro San Antonio, District 1 Councilman Roberto Treviño and City of San Antonio Center City Development & Operations. Confirmed partners will include: 
AT&T Center, One AT&T Center Parkway
Go Rio Cruises River Walk barges
Alamodome, 100 Montana St.
Tower of the Americas, 739 E. César E. Chávez Blvd.
New Frost Tower, 111 W. Houston St.
VIA Centro Chroma Tower, 909 W. Houston St.
San Pedro Creek Culture Park, 705 Camaron St.
Majestic Theatre Marquee, 224 E. Houston St.
Weston Centre, 112 E. Pecan St.
University Health Robert B. Green Campus, 903 W. Martin St.
The Children's Hospital of San Antonio, 333 N. Santa Rosa St.
Travis Park Methodist Church, 230 E. Travis St.
Tobin Center for the Performing Arts, 100 Auditorium Cir.
Burns Building, 401 E. Houston St.
Historic Market Square, 514 Commerce St. 
Market Square Farmer's Market, 612 W. Commerce St.
Office Source, 1133 Broadway St.
Playland Pizza, 400 E. Houston St.
Rise Civic Consulting, Cano Development, MG Oswald & Associates and Wiresolve, 110 E. Houston St., 8th Floor
La Villita (including Arneson, Bolivar Hall and Plaza Juarez entrance), 418 Villita St.
Kinetic Skyline Light Sculpture, Bank of America Plaza, 300 Convent Street
Additional pageantry such as orange windows, storefronts, stencils and patio decorations are also expected and encouraged along Houston St. as part of Centro's ongoing Activate Houston Street Initiative, a placemaking action plan for the downtown Houston Street corridor, a once bustling retail and pedestrian thoroughfare negatively impacted by the loss of the savings and loans industry and suburban sprawl.
The San Antonio community is encouraged to wear UTSA gear or orange and blue attire on Wednesday, June 5 to show its support.
"In addition to the 50th anniversary celebration, Downtown and the San Antonio community anxiously await the coming expansion plans of the existing and planned Downtown campus areas, as these visionary plans will continue the vibrant development of Zona Cultural District, Houston Street and our center city," Executive Director of Centro San Antonio Warren Wilkinson. 
Founded by the 61st Texas Legislature on June 5, 1969 in the first bill signing outside of Austin, Texas, UTSA was commissioned as a university of the first class. Until UTSA was established, San Antonio was the only major city in the nation not served by a four-year public university. Leaders, legislators and the public knew that if San Antonio was to achieve its full potential, a nationally recognized research university was needed to offer a comprehensive array of courses and degree programs.
Today, UTSA is an institution on the rise. Guided by its 10-year strategic plan, it is rapidly becoming a model for student success, a great research university, and an institution of strategic growth and innovative excellence. The university is home to more than 32,000 students with plans to grow to 45,000 and has an alumni network in excess of 131,000 students. These leaders are changing the world in industry, government and their communities.
"For the last 50 years, UTSA and San Antonio have grown and thrived together. We have shared bold goals that have generated an outpouring of support from residents, businesses and community leaders," said UTSA President Taylor Eighmy. "By lighting the city orange to commemorate the university's 50th anniversary, we are reminded that this special occasion is a city-wide achievement. Together, UTSA and San Antonio are creating a world-class community where every individual has an opportunity to thrive."