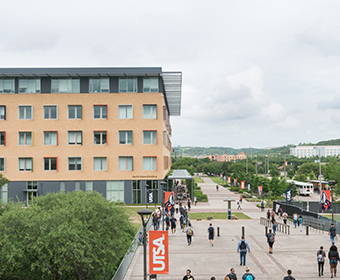 (June 20, 2019) – The UTSA Open Cloud Institute has launched the Catalyst Lab, its summer fellowship program in partnership with the 80/20 Foundation. The program matches highly skilled UTSA graduate students in engineering, computing and scientific fellowships with local tech companies in the San Antonio region.
Last year, a small pilot was launched with a student interning at FileStack, a locally-based content platform and developer service for file uploading, all part of the Scaleworks portfolio of companies. After a successful internship, he now works for the company as an engineer specializing in machine learning.
"Talent is the cornerstone for any company. FileStack partnered closely with UTSA and the 80/20 Foundation to find the best talent in the city and we did. The San Antonio tech scene is growing rapidly and we are determined to retain and grow local talent with the help of great partners like 80/20 and UTSA", said Sameer Kamat, CEO of FileStack/TINT.
The ten-week program offers current UTSA masters and Ph.D. students, enrolled in the cloud certificate program, the opportunity to work with local small- to medium-sized businesses in a position related to cloud computing, big data, machine learning or data science. Fellows receive a stipend and tuition credit, as well as a Geekdom membership.
"The Catalyst Lab is an initiative that brings together the expertise of UTSA's graduate students in areas related to cloud computing, machine learning, robotics and other of our technical areas with the vibrant startup community in the San Antonio region. We expect this program to significantly grow by next year, and include more students from other disciplines and programs," explained Jeff Prevost, co-founder and co-director of the UTSA Open Cloud Institute and associated professor of electrical and computer engineering/cloud technology endowed professorship.
Overall, students gain professional experience while obtaining a graduate certificate in Cloud Computing from UTSA. The graduate certificate in cloud computing is a 12-semester-credit-hour program designed to equip technical professionals with the knowledge and technical skills necessary for a career in an organization that leverages cloud computing. To date, nine students have completed the cloud computing graduate certificate since its launch in 2018.
"This is the type of experiential learning experience we want to offer our students. It benefits the students as they apply their academic knowledge to real-world problems, while getting acclimatize to a workplace environment. Employers benefit from highly skilled and trained scholars. Based on the outcomes of this summer's program, we hope to offer this internship opportunity to more students across other disciplines," said Bernard Arulanandam, UTSA interim vice president for research, economic development, and knowledge enterprise.
"We are honored to partner with UTSA on Catalyst Lab, strengthening San Antonio's post-grad talent pipeline. UTSA's expansion with the upcoming School of Data Science and the National Security Collaboration Center will bring to the Downtown a highly skilled workforce that we are eager to tap into and place with local companies through this program," concluded Alexandra Frey, executive director of the 80/20 Foundation.
Eligible UTSA students can apply to Catalyst Lab.