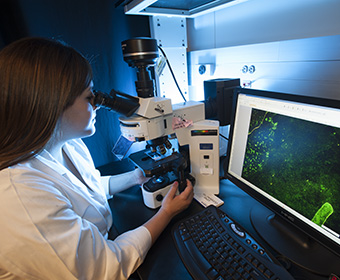 (June 26, 2019) – Once again, The University of Texas System (UT System) earned a top spot on the Top 100 Worldwide Universities Granted U.S. Utility Patents for 2018 and The University of Texas at San Antonio (UTSA) played a key role in the designation. UT System was ranked fifth this year and was the highest-ranked Texas institution on the list. Rounding out the top five rankings were the University of California System, Massachusetts Institute of Technology, Stanford University and King Fahd University of Petroleum and Minerals.
Published by the National Academy of Inventors and Intellectual Property Owners Association, the report pulls data acquired from the U.S. Patent and Trademark Office by calculating the number of utility patents which lists a university as the first assignee on the printed patent.
In 2019, UT System researchers were granted 187 patents from the U.S. Patent and Trademark Office. Of those, UTSA received seven patents, which accounts for 3.7% of UT System's patents. Given UTSA had 2.4% of the system's research expenditures in FY18, this indicates the institution is 54% above expectation when normalized to research activity. UTSA filed an additional 67 patent applications in fiscal year 2018.
UTSA's seven patents include:
Sos Agaian
US 10,055,551 | United States
Systems and Methods for Quantitative Analysis of Histopathology Images Using Multiclassifier Ensemble Schemes
>> An automated system designed to provide analysis and classification for several types of cancer (e.g. prostate, breast, skin, and others) from whole-slide digitized histopathology images.
Banglin Chen
US 10,150,095 | United States
A Porous Metal-Organic Framework with Pyrimidine Groups for Methane Storage Exhibiting High Working Capacity
>> A material with high working capacity for methane storage, which significantly facilitates the implementation of porous metal-organic framework materials for methane/natural gas storage
Ram Krishnan and Ravi Sandhu
US 10,116,664 | United States
Authorization Policy for Group-Centric Secure Info Sharing
>> A model framework that provides an advanced system to securely manage information sharing by a group or enterprise, and is agnostic with regard to specific software language and business environment.
Taeg Nishimoto
D818,183  | United States
A Buckram Hanging Lightsource Container
>> A design for hanging lighting fixtures made of Buckram fabric.
Brent Nowak
US 10,029,086 | United States
Method and System for an Adaptive Coupling Device for Medical Conduits
>> A multi-force break-away tube used designed to prevent accidental dislodgement of tubes, lines and drains which have been surgically inserted into a patient.
Arturo Ponce-Pedraza
US 10,060,799 | United States
Self-Assembled Nanostructure Bolometers and Methods of Use Thereof
>> A method to create a bolometric nanomaterial that exhibits high sensibility for the detection of infrared radiation and has the advantage of exhibiting high temperature coefficient of resistance.
Jing Yong Ye
US 10,157,483 | United States
Backprojection Approach for Photoacoustic Image Reconstruction
>> A filtered back-projection (FBP) algorithm for photoacoustic image reconstruction that improves the sharpness of reconstructed images and reduces ringing effects.
UTSA's patents and patent applications are managed by the UTSA Office of Commercialization and Innovation, which oversees the university's portfolio of intellectual property, engages companies in research and commercialization partnerships, and provides intellectual property education and training. They also help bridge the gap between basic research and applied innovation by operating a proof-of-concept fund, supporting commercialization development programs such as the NSF I-Corps™ and promoting entrepreneurship through the UTSA New Venture Incubator.
"Our ranking illustrates the investment in intellectual capital, allowing ideas to grow into new technologies and inventions, evolving into startups and companies with the end goal of developing a commercially viable product that can fulfill a need in the marketplace. Patents play a crucial foundational role in growing research and innovation," said Christine Burke, director of the UTSA Office of Commercialization and Innovation."