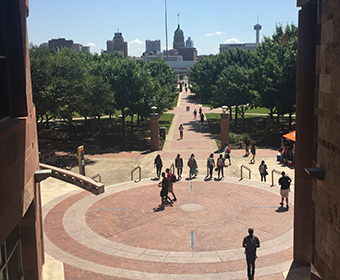 Editor's Note: UTSA President Taylor Eighmy sent this email to UTSA faculty and staff today.
(July 25, 2019) -- Dear Roadrunners,
In the spring of 2018 we launched an initiative to focus on the student experience at our Downtown Campus. Much progress occurred during this initial phase, which is now coming to a formal close as certain efforts become operationalized and others evolve into more focused initiatives.
As we look toward the start of the fall semester in just a few short weeks, I'd like to share some updates on the current status of this work. All the efforts described below reflect the fundamental notion that UTSA is one university with multiple campuses, cohesively working toward our bold vision for the future.
Downtown Student Services
Key to our student success goals is ensuring that the student services we offer are appropriately tailored to the specific needs of each campus. Work over the last 15 months laid the groundwork for some significant enhancements to services at the Downtown Campus that are now coming to fruition:
Operationalized Functions
As a result of recent reorganizations within our Academic Affairs and Business Affairs areas, several efforts included in the first phase of the Downtown Campus initiative have now been formalized under the ownership of particular divisions:
Ongoing Initiatives
We still have much work to do to achieve our vision for the Downtown Campus. Several initiatives launched over the last year advance projects that have a significant impact on the campus's physical development, academic offerings and student support services. They include:
On the Horizon for 2019-20
This coming academic year we will launch several new efforts to deepen our relationship with the neighborhoods surrounding the Downtown Campus, such as an initiative dedicated to creating connections with the West Side community, and establishing a new Community Relations office within University Relations.
At a broader level, this fall we'll launch a new initiative on advancing institutional effectiveness focused on maximizing our human, fiscal and physical resources to generate innovative excellence across all our campuses
No doubt this will be another exciting year as we continue to gain momentum as a result of all you do for UTSA. Thank you for your hard work, as always, and enjoy these last few weeks of summer!
With Appreciation, 
Taylor Eighmy