(July 22, 2019) -- UTSA is training the next generation of female computer scientists on San Antonio's Westside.
Through the Girl CodeRunners summer camp, middle school girls are exploring computer programming and careers in Science, Technology, Engineering and Mathematics (STEM). With fun activities and new friendships, these girls are being empowered to code at an early age.
The weeklong Girl CodeRunners camp is expanding the students' knowledge and interest in STEM fields through hands-on experience on creating websites and computer games, computer animation and storytelling, and robotics.
Two students who recently participated in the camp worked together to design and code a unique game. This is just one of the many amazing projects produced during the camp this summer. The goal of their game is to catch fruit in a bowl to score points while avoiding objects like eyeglasses and lightning bolts.
One of the girls, who is 13 years old and will be entering 8th grade this fall, said her coding has improved throughout the weeklong camp.
"The teaching assistants are always here to help us out. It feels very good to create a game and make a robot," she explained. "It's also fun making a new friend."
That new friend, a 11-year-old who will be entering the 7th grade this fall, said she started coding a few years ago and enjoyed making stories and creating new memories during this camp.
The girls are proud of what they accomplished together.
The UTSA Academy for Teacher Excellence Research Center (ATE) is partnering with the UTSA College of Engineering and Institute for P-20 Initiatives to host the weeklong camps each week at Good Samaritan Community Services on the Westside. The camps started June 10 and runs through July 26, 2019.
ATE undergraduate research assistant Vedika Khanna says it's inspiring to see the campers work together and problem solve to complete their projects.
"I want them to know you can do whatever you want when you use your intelligence and resources to solve challenges," said Khanna, who started coding in sixth grade and is now a UTSA senior majoring in digital communication and minoring in cyber security. "My favorite part is seeing the girls show their creative side by coming up with greeting cards and games."
In addition to learning about coding and programming, the campers are also learning about STEM careers and the degrees they can receive to land those high-demand jobs.
"The girls often ask questions about college and degrees out there related to STEM," said Khanna.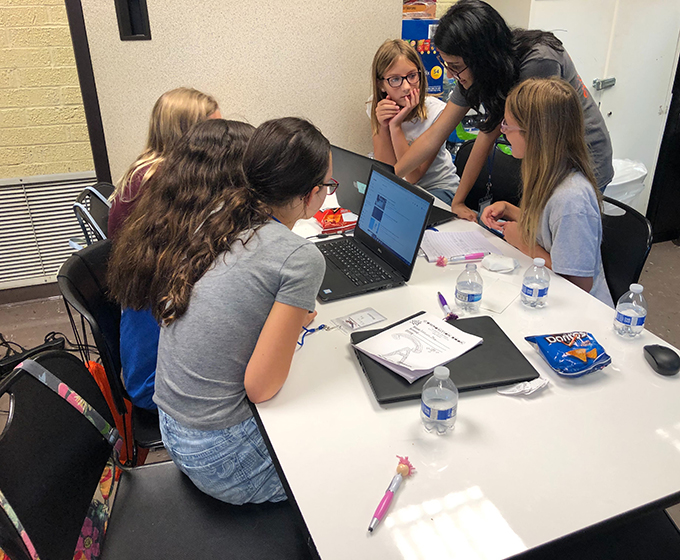 To capture that curiosity, the teaching assistants, all UTSA undergraduate and graduate students, are sharing with the girls what it's like to go to college.
The teaching assistants said that some girls have mentioned that they want to be mechanical engineers, astrophysicists and programmers.
To encourage young girls to go after those careers, the campers are introduced to jobs in the gaming industry, robotics industry, animation industry and website design industry.
On the last day of each week's camp, the girls tour the UTSA Main Campus and visit the robotics lab of Pranav Bhounsule, assistant professor in the UTSA Department of Mechanical Engineering.
Bhounsule was awarded a $100,000 grant by the Texas Workforce Commission (TWC) to support the summer camp.
"Careers in computer programming and software are growing rapidly while also providing a competitive salary," explained Bhounsule, the principal investigator (PI) of the grant. "However, only about 26.6% of women take up jobs in computer science and engineering."
At the end of the week, the campers receive a certificate of completion and a chance to win prizes based on how competitive they are during the course of the weeklong camp.
"It is important for children to know that they can become good at anything they want to no matter their economic or social background with hard work and perseverance," said Bhounsule. "A camp like this provides a great opportunity for UTSA to go into the community, in this case the Westside, and educate young minds on careers in STEM."