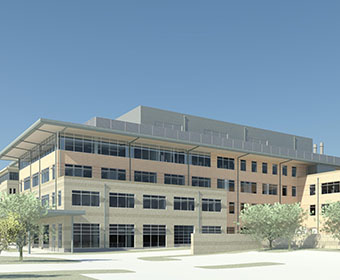 (July 11, 2019) – The Chemical Engineering Laboratory that will be housed in the new UTSA Science and Engineering Building will be filled with state-of-the-art equipment upon the building's completion in 2020, thanks to a generous donation.
A $200,000 gift from The Klesse Foundation will provide the funds needed to purchase multiple pieces of research equipment that will fully equip the Chemical Engineering Laboratory. This equipment will allow students to gain incomparable hands-on research experience, preparing them for this highly competitive profession following graduation.
"The UTSA College of Engineering is preparing students to compete with top engineering graduates and working professionals throughout the nation, and this equipment will give our chemical engineering students an edge among their competition," said JoAnn Browning, David and Jennifer Spencer Distinguished Chair and dean of the UTSA College of Engineering. "UTSA students will graduate with the knowledge, competitive skillset and experience to enter the workforce and compete with engineering graduates from top performing programs across the country, as well as engineering professionals."
Klesse, the former Chairman of the Board and former CEO of Valero Energy Corporation, and his wife, Margie, have a long history of supporting higher education and the UTSA College of Engineering.
In 2012, they provided support for the Diamond Shamrock Legacy Endowed Scholarship for the College of Engineering. Since the scholarship's inception, seven UTSA students have received $9,800 to support their education.
In 2017, The Klesse Foundation donated a $1 million gift to help support the Chemical Engineering program at UTSA, enabling the acquisition of equipment, including a two-story distillation column, which has attracted statewide attention.
The Foundation also created the Margie and Bill Klesse Endowed Scholarship in Chemical Engineering in 2017. This contribution directly benefitted the recruitment of top-performing students for the College of Engineering Chemical Engineering Program and ensures that top talent is retained and that the Chemical Engineering program is entirely resourced by the time the first cohort of students graduate in 2022.
"Chemical engineers are in high demand throughout the State of Texas and have a great positive impact on their environments," said Bill Klesse, founder of The Klesse Foundation. "Chemical engineers' careers can go in many directions, including manufacturing industrial goods as well as the refining and petrochemical industries, to help make people's lives better. We are very pleased to be able to support UTSA's Chemical Engineering program to enhance our community with a new generation of talented top-tier engineers."
The UTSA Science and Engineering Building is currently under construction on the Main Campus. The $95 million structure, which is slated to open in 2020, will provide laboratory, classroom and collaborative space for UTSA's academic and research programs in brain health, chemical engineering, biology and chemistry. The new facility is an important step for UTSA as the university moves forward to become a nationally recognized research institution.