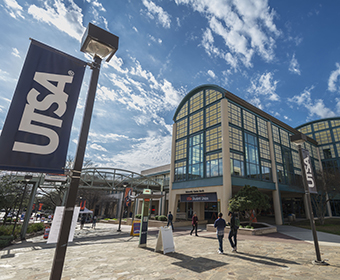 (July 23, 2019) -- UTSA, BCFS-San Antonio and community partners are teaming up to provide Bexar County youth in foster care with the tools to prepare for their future. About 100 current and former foster youth will spend a day at UTSA during the Preparation for Adult Living (PAL) Independence Day Conference. The interactive and educational event is today from 9 a.m. to 4 p.m. in the Student Union Denman Ballroom (SU 2.01.28) on the UTSA Main Campus.
The annual PAL Independence Day Conference gives foster care youth the opportunity to explore the many potential paths their future could take in higher education and beyond.
The youth will hear motivational messages from UTSA President Taylor Eighmy and Frank Wilson, UTSA head football coach. They'll also interact with UTSA undergraduate and graduate students who were formerly in foster care. During a panel discussion moderated by Megan Piel, UTSA assistant professor of social work, the students will share their inspirational stories that took them from foster care to college student and on a path to graduate.
The National Factsheet on the Educational Outcomes of Children in Foster Care reports that at least 70% of foster youth aspire to go to college, yet only 33% of foster care alumni enroll in postsecondary education, and in Texas, only 1.5% graduate with a 4-year degree by age 24.
Hosting this conference is one way UTSA is actively working to change that trend.
To further advance student success, UTSA, Texas A&M University-San Antonio, Alamo Community Colleges District, Bexar County Children's Court and Child Advocates of San Antonio will receive a total of $3.5 million this biennium from the Texas legislature to create a pipeline of educational support for students with a history of foster care. The Bexar County Foster Care Support Pilot Program will position Texas to be a national leader in this area by enhancing existing resources and practices and developing targeted support to increase access, retention and graduation rates for foster care alumni.
"When young people age out of the foster care system, they are particularly vulnerable, and without an education and support system, face complex challenges," said Peggy Eighmy, first lady of UTSA and one of the pilot program leads. "They experience homelessness, unemployment, early parenthood and incarceration at much higher rates than their peers. We owe these young people a better future. We can do so much better and I believe higher education is the best path forward in doing so."
During the conference, the youth also will discuss degree options with college representatives at UTSA and Alamo Colleges, and learn about grant and scholarship opportunities. They will experience campus life during a tour of the Main Campus, climb the rockwall and engage in other activities at Campus Rec, and have a photo opportunity with Rowdy. Additionally, they will learn about community services and resources available to them.
"We want the students to walk away from UTSA on this day knowing a college education is attainable," Eighmy added. "They have complete support from UTSA and the community to be academically and emotionally ready to succeed in college."