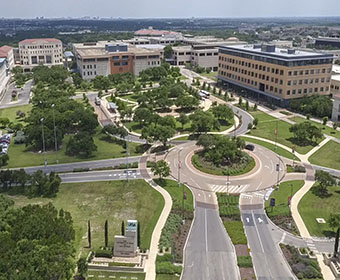 (July 19, 2019) -- Work to make improvements to a large portion of roads on the UTSA Main Campus begin today and will continue through Aug. 23. Crews will be on campus Monday through Sunday from 7 a.m. to 8 p.m. and 10 p.m. to 7 a.m. conducting asphalt replacement, seal coating of road surfaces, painting and striping. 
Repairs will require intermittent road and lane closures throughout the duration of the project. UTSA Facilities has developed a work schedule to minimize the disruption to traffic flow and will have barricades, signs and flagmen onsite to identify detours.   
>> View the work schedules for asphalt repairs and seal coat projects.
Work will be accomplished in two phases. Road repairs are scheduled from July 19 to Aug. 3 and seal coating, painting and striping will occur from July 25 to Aug. 23. 
As with any construction project, there is a possibility that the schedule will need to be adjusted due to weather or unforeseen circumstances. Facilities will post any changes to the schedule on the Facilities website, through Facilities email notifications and via UTSA social media platforms.   
For additional information, contact the Facilities Service Center at 458-4262 or FacilitiesServiceCenter@utsa.edu.