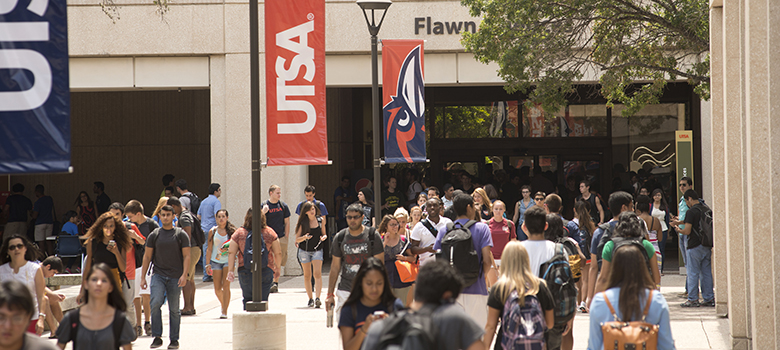 (July 1, 2019) -- Provost and Senior Vice President for Academic Affairs Kimberly Andrews Espy today announced the appointment of Lynn Barnes Jr. as senior vice provost for strategic enrollment for UTSA following a nationwide search. He currently serves as associate vice president for enrollment management at Texas A&M University.
"Lynn is a highly collaborative professional who brings best practices from his experience working at an R1 university, as well as a Fortune 100 company," Espy said. "At a time when enrollment has been flat at many universities, his innovative leadership has helped A&M grow its enrollment, not only in size, but also in diversity and preparation. We are fortunate that he will join our team and bring that talent and expertise to San Antonio."
"It's exciting to see the commitment of UTSA's leadership to student success. Strategic enrollment will play a significant role in this journey, and I'm eager to work with the university community on the many initiatives that will help make this vision a reality," Barnes said. "I'm passionate about enrollment management and the many elements that shape the overall student experience, and I'm grateful for the opportunity to help UTSA define a superior experience for Roadrunner students."
A first-generation college graduate and McAllen, Texas native, Barnes has nearly 30 years' management experience, including more than 20 in higher education. He has worked at Texas A&M since 2004 with increasing responsibility in scholarships and financial aid, recruitment and admissions, with additional expertise in diversity initiatives, technology management and enrollment marketing and communications. In his current role as associate vice president, he is responsible for developing and executing strategic enrollment management plans for the university's colleges and departments, and manages more than 250 staff members in multiple units and at sites across the state and nation. 
Barnes earned his BBA in management from Texas A&M and his MBA from the University of Texas–Pan American (now UT Rio Grande Valley). He says his own interest in higher education grew from his experiences as an undergraduate, a first-generation college student and financial aid recipient, as well as a student worker in the financial aid office.
"I loved working in financial aid," Barnes said. "As a student, I was able to experience the inner workings of an administrative office — one that was critical in providing access and enabling success for students just like me. I loved the notion of serving students and helping them make their dreams come true."
After college, Barnes continued working in Student Financial Aid at UTPA for several years before an industry stint at multinational conglomerate Johnson Controls, where he worked first as information systems manager at the company's large-scale manufacturing facilities in Reynosa, Mexico, and then as global supply chain system manager at corporate headquarters in Milwaukee, Wis.
"At Johnson Controls, I worked on the manufacturing and supply chain side, but I interacted with the customer service side to fine-tune our operations and processes to better meet customer expectations," said Barnes. "I always knew I wanted to return to higher education one day, and I've been able to use that private industry experience in my work. By bringing that business and process lens, I can collaborate with my colleagues throughout the university to identify needs and make changes in a measured way to drive a better service experience for students and staff."
Barnes will begin his role at UTSA on July 22.
Additionally, Espy announced Can Saygin as senior vice provost for university planning, effective immediately. In this restructured role, Saygin will oversee the strategic planning process; capital, information technology and systems planning; process improvement; and institutional research and reporting.
A professor of mechanical engineering and the former director of UTSA's Center for Advanced Manufacturing and Lean Systems, Saygin has worked at UTSA since 2006. He has served in many administrative roles at UTSA across the university, including Institutional Intelligence, the Graduate School and Research.
"Can has long played a lead role in integrated planning role at UTSA, and I am grateful that he will provide more comprehensive support to optimally guide our strategic decision-making that connects our academic enterprise to those providing support in order to achieve our priorities," Espy said.
As part of this restructuring, the SACS accreditation, academic program review and assessment functions overseen by Associate Vice Provost Kasey Neece-Fielder will now report to Senior Vice Provost Heather Shipley.  Finally, Counseling Services now will report directly to Dean of Students and Senior Vice Provost for Student Affairs LT Robinson.