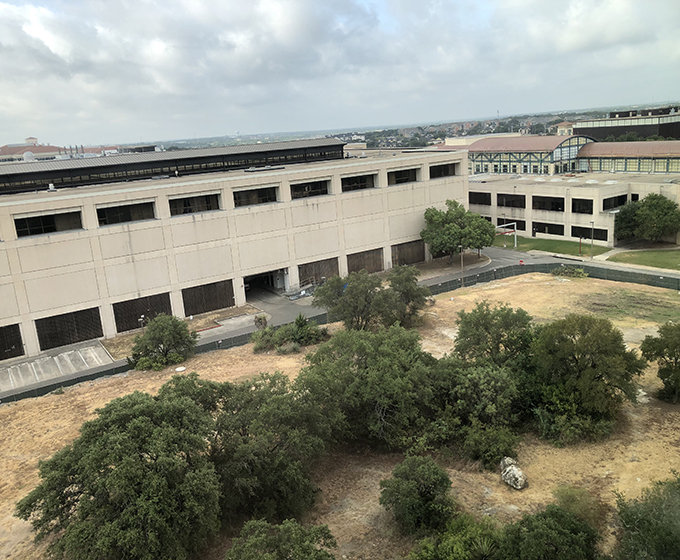 (Aug. 8, 2019) -- To further advance the President's Initiative on Student Success, UTSA will begin construction this month on the Student Success Center, a temporary advising center on its Main Campus. The new complex will consolidate the university's undergraduate advising services and select support programs into one area on campus to make it easier for students to access academic support programs and student success resources.
Crews recently set up green fencing to begin work at the construction site for the new Student Success Center, which will be located at the corner of Cook Rd. and the Devine Ave. fire access road. UTSA expects the 30,000-square-foot modular complex to be completed by spring of 2020.
The temporary complex is an intermediary step toward developing a dedicated building for UTSA's Student Success Center.
"At this time, UTSA students are commonly directed from building to building to obtain services, resulting in disjointed, often uneven experiences," said Tammy Wyatt, Vice Provost for Student Success. "We are currently working on plans for a permanent Student Success building that will serve as a hub for students to access the essential resources that will set them up for academic success."
The Student Success Center, a key component of UTSA's master plan, aims to support each undergraduate's academic journey from start to finish. It also aims to improve the student experience and each student's sense of belonging while also improving first-year retention rates, second and third-year persistence rates and four and six-year graduation rates.
Student success is one of UTSA's three institutional destinations. The university has aggressive retention and graduation rate goals and a rigorous Integrated Student Success Plan and Strategic Enrollment Plan in place to help reach them.