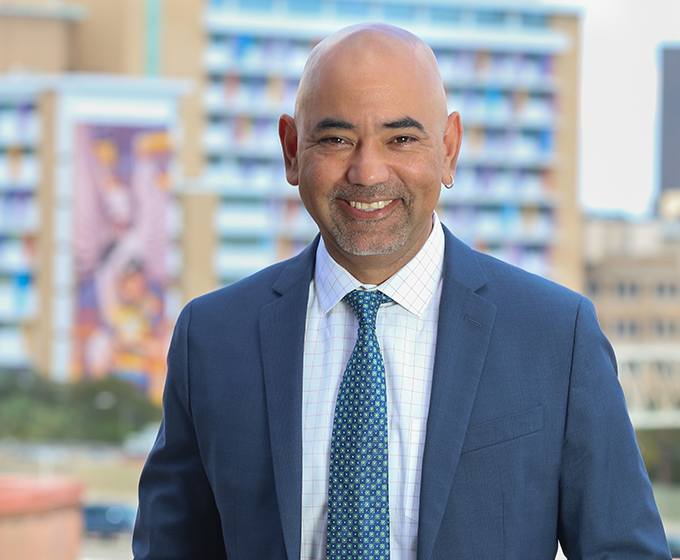 (Aug. 1, 2019) -- An expert on educational policy at UTSA and a champion for student success, Enrique Alemán, Jr., has been selected as the only fellow from a San Antonio college or university to enter a leadership development program launched by the Hispanic Association of Colleges and Universities (HACU).
Alemán, a professor and chair of the UTSA Department of Educational Leadership and Policy Studies, was chosen by HACU to be a fellow of its inaugural Presidential Leadership Academy, La Academia de Liderazgo.
"I'm honored to be selected as a HACU fellow to participate with leaders from across the country. I'm thankful to UTSA for supporting my nomination and selection for this leadership development program aimed to support student success," replied Alemán, who joined the College of Education and Human Development in 2015.
HACU's new one-year program prepares the next generation of culturally diverse leaders at Hispanic-Serving Institutions (HSIs) and emerging HSIs. The program is designed to increase Hispanic representation in presidential and leadership positions in higher education.
"We are tremendously proud of Enrique for this exciting opportunity which most assuredly will enrich and catapult his career and, as a result, benefit our institution," said Provost and Senior Vice President Kimberly Andrews Espy. "UTSA is deeply committed to the professional success and advancement of its faculty, particularly our underrepresented minority faculty, who have the chance to create meaningful impact through leadership."
The HACU program includes three seminars, with the first taking place in October 2019, in conjunction with HACU's 33rd Annual Conference in Chicago, Illinois. The second seminar will lead into HACU's 25th Annual Capitol Forum on Hispanic Higher Education in Washington, D.C. in April 2020. The third seminar will be held in late spring or early summer of 2020, with a focus on international collaborations.
Fellows will get to interact with current and former leaders in higher education. The program includes a mentorship with a university president, as well as the development of a special project designed to impact the fellow's home institution.
A native of Kingsville, Texas, and a first-generation college student, Alemán melds his personal and professional interests with research that has the potential to address the racialized and institutionalized inequities that have historically underserved students and communities of color.
His research focuses on Latina/o/x and Chicana/o/x educational policy and leadership, critical race theory and university-community partnerships.
"As the demographics of our student population become more Latina/o/x, it is vital that higher education institutions cultivate a leadership pipeline that is not only attuned to this student population, but that leaders are specifically prepared to serve and lead in ways that value transforming practice and policies to benefit our future students," said Alemán.
Student success is inextricably linked to faculty success. In fact, studies suggest that faculty who participate in professional development opportunities have demonstrable impact on their students learning outcomes.
Under Espy's leadership, efforts to enhance faculty success at UTSA have been put into motion in order to create a culture where faculty are encouraged and supported to develop as academic leaders within and beyond the classroom and lab. A few steps in this direction include hiring a director of faculty professional development within Academic Affairs, sending faculty to leadership conferences for women and diverse scholars, and launching the Advancing Next-Gen Faculty Leadership Fellow Program, a faculty-oriented leadership development program focused on training the next generation of diverse academic leaders.
As a next generation, Hispanic-thriving, multicultural institution where students from all backgrounds can excel, UTSA serves as a prosperity engine graduating world-engaged civic leaders of tomorrow.