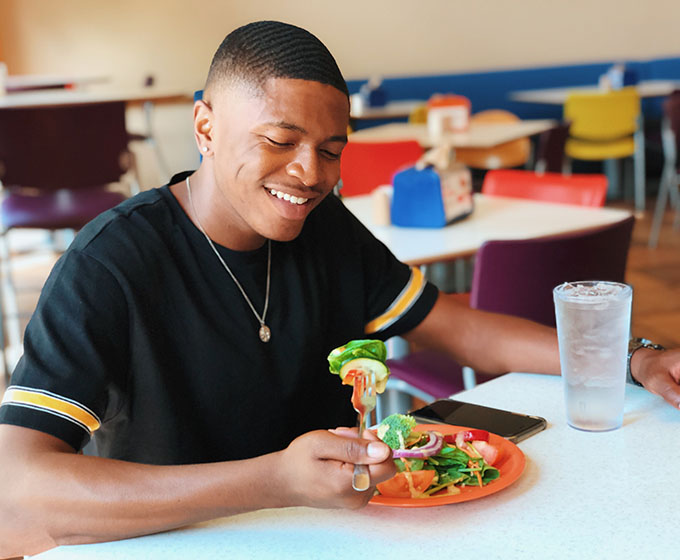 (Aug. 21, 2019) -- As busy students, you're always looking for something quick to eat between classes. UTSA Dining makes eating healthier and faster easier with options across the Main and Downtown Campuses to suit a wide range of lifestyles and tastes.
Roadrunner Café – something for everyone
The Roadrunner Café, which is next to Chaparral Village on the Main Campus, has 11 stations to choose from, including made-to-order options for customization and variety. Nutritional information is available with every meal, so there are no surprises on your plate. Icons at each station identify options that are low calorie, low sodium, low fat, vegetarian, vegan, made with whole grains, etc.
All information is on the UTSA Dining website, including a full list of menus with nutritional information and identifying icons.
Healthier eating – the best way to satisfy hunger
UTSA is home to several restaurants, many of which are national brands. Nearly all of them have options for the health-conscious customer.
Greens To Go in the John Peace Library (JPL) food court offers more than 10,800 customizable options for hand-crafted, made-to-order salads and wraps. Also in the JPL, Chick-fil-A has grilled chicken sandwiches and fresh market salads for a healthier alternative to its fried offerings. Across the way is Subway, where you can order a sandwich, salad or flatbread from a seemingly endless array of vegetables and leaner meats.  A second Subway is located in the H-E-B Student Union.
Rowdy Curbside, UTSA's food truck, resides at the Sombrilla to bring Tex-Mex options to the JPL food court area. The food truck serves an array of breakfast tacos in the morning and tacos, nachos and more for lunch and dinner.
The Market Place in the Business Building has a variety of fresh options, including grilled chicken sandwiches, frozen vegan burritos and salads. They even have a frozen yogurt bar to stay cool with a sweet treat.
In the Student Union food court, Slice Pizza and Wings offers whole pizzas, pizza by the slice, salads, wings and rotating flatbread options. Rowdy's Global Kitchen provides Tex-Mex and Mediterranean options, including vegetarian and healthy selections. Panda Express also has delicious healthier choices, including grilled chicken teriyaki meals, steamed vegetables and brown rice.
The Student Union is also home to Chili's Too, a sit-down restaurant where diners can pair their Chili's favorites with a soup or salad. Grilled chicken sandwiches, in addition to several lunch combos, are served for excellent prices.
Breakfast or even a light lunch is served at Einstein Bros. in the Biotechnology, Sciences and Engineering (BSE) Building.  They offer freshly baked whole-grain bagels, breakfast, sandwiches and salads. Want less bagel with the same great taste? Ask for your sandwich on a bagel thin.
For those really on the run, stop by any of the P.O.D.s – "Provisions on Demand" – around campus. They're in or near almost every building on the Main and Downtown Campuses. You'll find fresh drinks, coffee, pre-packaged salads and sandwiches, and other healthier options for eating on-the-go.
At the Downtown Campus, visit the food court, which offers its own unique dining experiences, like Grille Works, Sushic, Pizza Hut and Subway.
With a wide variety of choices, there are lots of ways to enjoy a delicious meal on the go without leaving campus. Eating healthy and staying hydrated will make a big difference in academic success.