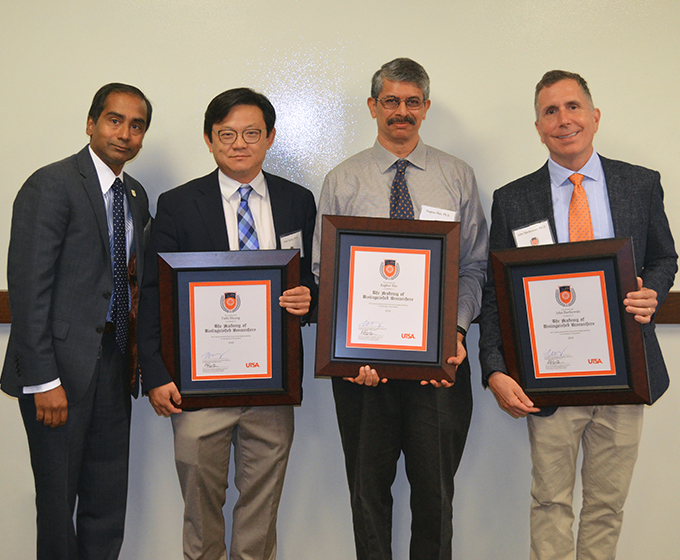 (Aug. 28, 2019) -- The UTSA Academy of Distinguished Researchers (ADR) has selected three senior faculty members for induction this calendar year.
Established in 2015 by the Provost's Office (now Academic Affairs) and the Research Office (now Research, Economic Development and Knowledge Enterprise), the UTSA Academy of Distinguished Researchers honors outstanding faculty who are accomplished scholars and who share the university's continuing commitment to research excellence. Through a nomination process, selected members promote the university's vision as a premier public research university and foster the highest quality of research and scholarly activity.

Chaired by Hamid Beladi, there are 17 members to date (14 active), representing a variety of disciplines in the sciences, humanities, social sciences and arts. This academy is one of many pathways to increase national and international recognition of UTSA as an institution of research excellence, and to be officially recognized as a research-intensive university through the Texas Higher Education Coordinating Board (National Research University Fund, NRUF) and The Carnegie Classification of Institutions of Higher Education®.
The new members are:
John P. Bartkowski is a professor with the Department of Sociology (COLFA) where he has served on the faculty since 2008. Previously he was professor of sociology at Mississippi State University (1997-2008). Much of Bartkowski's research examines the intersection between religion, family, gender, youth development, and civil society. Currently, his recent research focuses on the role of religion in private and public life. In private life, he explores how people's identities (sense of self) and primary relationships (family ties, friendships) are influenced by their religious involvement. In public life, he analyzes how community-level religion (the number and types of congregations in a county) affects various outcomes like adult mortality, infant mortality, and crime. Bartkowski is the author of several books and has published widely on the contours of men's religious identities, the gendered character of religious institutions, and the influence of parental religiosity on family functioning and child development. He has also conducted research on faith-based initiatives, is associate editor of the Journal for the Scientific Study of Religion and has been deputy editor of Sociology of Religion. He has served as president of the Religious Research Association and has held leadership positions in various scholarly organizations. He has served as an evaluator on federal and foundation grants designed to enhance the performance of community-based organizations and the delivery of services to disadvantaged populations (e.g., U.S. Department of Education, Center for Substance Abuse Prevention, Compassion Capital Fund, and Lilly Endowment). He received his Ph.D. from The University of Texas at Austin in 1997. As of 2019, Bartkowski's h-index is 35 and his i-10 index is 65. He has been cited 5,351 times. 
Yufei Huang has been a professor with the Department of Electrical and Computer Engineering (COE) since 2002 with a dual appointment as adjunct professor with the Department of Epidemiology and Biostatistics at UT Health SA. He has also been a visiting professor at the Center of Bioinformatics, Harvard Center for Neurodegeneration & Repair. Huang's expertise is in the areas of computational biology, computational neuroergonomics, brain computer interface, statistical modeling, and Bayesian methods. He is currently focusing on uncovering the functions of mRNA methylation using high throughput sequencing technologies, developing passive EEG-based brain-machine-interaction, and deep learning algorithms for EEG data analysis. He was a recipient of the National Science Foundation (NSF) Faculty Early Career Development (CAREER) Award in 2005, Best Paper Award of 2006 Artificial Neural Networks in Engineering Conference, and 2007 Best Paper Award of IEEE Signal Processing Magazine. His research has been supported by the NSF, National Institutes of Health, Air Force Office of Scientific Research, Army Research Lab, Department of Defense, and Qatar National Research Fund. He has been an organizer of workshops and several special sessions including the IEEE Workshop on Genomic Signal Processing and Statistics, and Workshop on Systems Biology and Medicine, and IEEE Bioinformatics and Biomedicine Conference. He is an Associate Editor of IEEE Transactions on Signal Processing, BMC Systems Biology, EURASIP Journal on Bioinformatics and Computational Biology, and International Journal of Machine Leaning and Cybernetics. He received his PhD in electrical engineering from the State University of New York at Stony Brook in 2001. As of 2019, Huang's h-index is 28 and his i-10 index is 66. He has been cited 3,752 times.
H. Raghav Rao has been the Endowed AT&T Distinguished Chair in Infrastructure Assurance and Security in the Department of Information Systems and Cyber Security (COB) since January 2016 and holds a courtesy appointment as full professor in the Department of Computer Science. Prior, Rao was the State University of New York (SUNY) Distinguished Service Professor at the University at Buffalo. His research interests are in the areas of management information systems, decision support systems, e-business, emergency response management systems and information assurance. He also has co-edited four books and authored or co-authored more than 200 technical papers, of which more than 125 are published in archival journals. Rao was the inaugural recipient of The Bright Internet Award by the Korea Society of Management Information Systems (KMIS). In 2018, he was awarded the International Federation for Information Processing (IFIP) Outstanding Service Award for significant service contributions to the field of information systems and information systems security. Rao's work has received best paper and best paper runner up awards at the Journal of Information Systems Research, Americas Conference on Information Systems (AMCIS) and the International Conference on Information Systems (ICIS). He has received funding for his research from the National Science Foundation, Department of Defense and Canadian Embassy, and received a Fulbright fellowship in 2004. Rao is a past chair of IFIP WG 8.11/11.13, the working group for Information Systems Security Research. He is co-editor in chief of Information Systems Frontiers, advisory editor of Decision Support Systems, associate editor of ACM TMISand senior editor at MIS Quarterly. He graduated from the Krannert Graduate School of Management at Purdue University. As of 2019, Rao's h- index is 61 and his i-10 index is 167. He has been cited 17,879 times.
"It's vital to recognize our faculty and their contributions to the knowledge enterprise. High-quality faculty is a key component for eligibility into the NRUF, and we want to acknowledge the high caliber of scholarly and research output by the UTSA community. In coordination with the Academy, we are seeking new ways in which our faculty receive national scholarly recognition," said Bernard Arulanandam, UTSA interim vice president for Research, Economic Development, and Knowledge Enterprise.
The induction ceremony took place today, August 28, 2019. Research-focused faculty members who are interested in becoming a member of or nominating others for the UTSA Academy of Distinguished Researchers should notify their college dean. The ADR releases a call for and evaluates nominations on an annual basis.