(Aug. 28, 2019) -- The acceptance rate for MIT is 7.9%. That's less than one in 10 students who apply and get in. Yet, Favour Obuseh, a junior this fall at UTSA, managed to snag a prestigious research internship position at the highly competitive institution.

He's in good company. After all, MIT was home to the founders of Dropbox, graduated astronaut Buzz Aldrin, educated heads of state including Kofi Anan and even trained the next generation of female scientists such as Katie Bouman—the brain behind the CHIRP algorithm that captured the first image of a black hole.
This summer, the UTSA student walked the same Cambridge hallways where those pioneers honed their skills.
"From day one, I was intimidated by the level of intelligence exhibited by the members of the Niles Lab," recalls Obuseh about how nerves got the better of him on the first time he entered the MIT laboratory this summer. "Initially, I forgot how to pipette, and I couldn't do basic dilution calculations."
However, Obuseh credits Khan Osman, his MIT research mentor, as the rock that allowed him to regain his perspective and believe that he had the capabilities to succeed.
"Favour's youthfulness and energy brought smiles on all of us, from the first day he joined our lab," said Osman. "His enthusiasm was contagious and his curiosity helped solve some of the key problems of the project."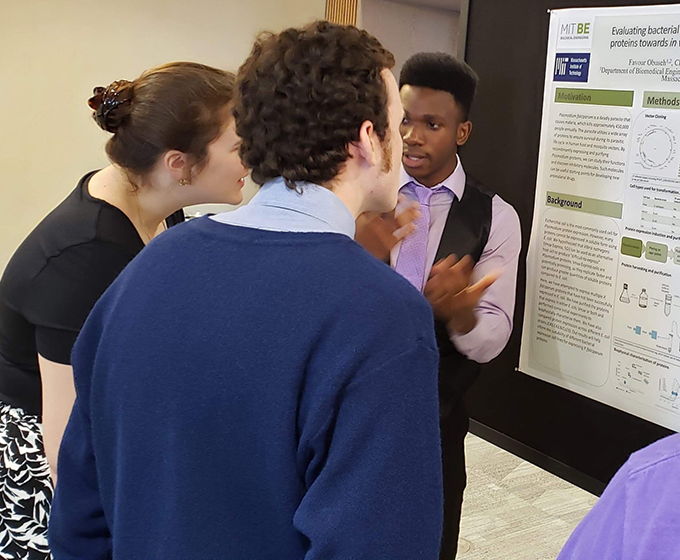 At MIT, Obuseh tapped the research experience he gained in a UTSA biomedical engineering lab, where he worked on solutions to help with bone tissue regeneration by building blood vessels in scaffolds. The acceptance of the MIT challenge and his own training at UTSA allowed him to stay grounded during his hands-on East Coast internship.
He worked a wide array of proteins that are thought to ensure the survival of Plasmodium Falciparum during its parasitic life cycle. Plasmodium Falciparum, the deadliest human malaria-causing parasite, utilizes various proteins that are hard to express and have unknown functions. Obuseh's examined different protein expression systems and performed initial experiments to biophysically characterize the proteins.
"We have successfully expressed two P. falciparum proteins and begun defining their thermal stability profiles which can potentially be used to screen for small molecule binding for these two P. falciparum proteins," he said. "The progress we made in this research will bring us closer to understanding the functions of these proteins and potentially identify a novel antimalarial drug."
This UTSA student is grateful for his MIT experience.
"Moving out of your comfort zone is always essential for growth. How well one can adapt to a different research and learning environment says a lot about your ability to collaborate," said Obuseh.
Today, he's back on our campus and ready to take on the fall semester. He will resume his research role in the laboratory of the Chair of the Department of Biomedical Engineering and Chemical Engineering, Eric Brey, working on tissue engineering. Obuseh will also pursue additional outreach efforts in San Antonio as the new president of the Biomedical Engineering Society at UTSA.
"I'm really grateful to God for the MIT experience. Also, for UTSA. Here, I have professors and peers that genuinely care for my success," said Obuseh. "Now that the MIT summer research program is over, I could see myself going back there to pursue my Ph.D."