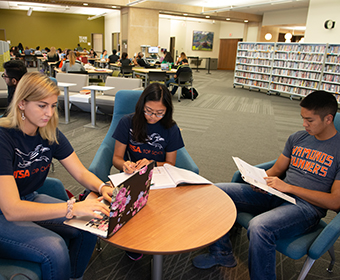 (Sept. 5, 2019) -- UTSA Libraries is dedicated to supporting student success, providing many services and resources. The John Peace Library is considered the heart of the campus along with the Sombrilla Plaza, and it's easy to see why students refer to it as a second home. Here are our top tips to rock this year as a UTSA Roadrunner!

The Blue Crew are your friends!
If you're ever lost or have a question, the Libraries' staff, called the Blue Crew, are always there to help. You can even chat with the Blue Crew from the Libraries website. Don't forget to Find Your Librarian! Each UTSA Libraries' librarian has subject specialties that fit within your major and/or college.

Various study spots available.
Need to find a study space? The Libraries has three locations where you can study, including the JPL, the Downtown Library, and the AET Library. You can reserve one of UTSA Libraries' sought-after study rooms online for all three locations. At the JPL, you can also find a spot in the popular North Commons, or the 4th Floor Study. Additionally, the JPL offers Quiet Computing and Quiet Study, as well as a Veterans Study Room and two Graduate Study rooms. The Downtown Library also offers Quiet Study, and a Graduate Study Room.

See if your textbook is on reserve.
The Libraries has a selection of textbooks for high-enrollment, lower-division courses on reserve that can be checked out for up to two hours at a time. The Libraries works hard to provide students free and low cost textbooks, offering a faculty grant for faculty who use free or low cost textbooks in their courses. Check out which classes have offered textbooks on reserve and low cost learning materials.

Print, scan, copy: It's your one-stop shop for your printing needs.
Printing stations are located inside the JPL and Downtown Library, and at the AET Library. Students enrolled on a full-time basis receive $12 in printing credit at the beginning of each semester. After that, printing costs apply but the convenience makes it totally worth it. 

Borrow and use tech at the Libraries.
The Libraries' Borrow Tech Gear allows you to borrow various tech items, including laptops, chargers, and even a bike pump and Allen Wrench sets. From cameras and calculators to noise-cancelling headphones and a turntable, the Libraries has it all. Take a look at the complete list of technology available. The Libraries also offers a few hundred computers for student use on a first-come, first-served basis, including engineering computers in the North Commons at JPL, and at the AET Library.

The UTSA Libraries' website has just about everything. 
The UTSA Libraries website is one of the university's most visited websites. There, you can access articles, view tutorials and check out Research Guides. Use the Get It For Me service to request books and articles; when they're ready, pick them up in-person at the front desk.

You can enrich your sense of one-of-kind history.
UTSA Libraries houses the nationally recognized UTSA Special Collections that documents San Antonio and Texas history, including a collection of rare books. Notable collections include the Mexican Cookbook Collection, which contains the recent addition of the Diana Kennedy archives, the Southwest Voter Registration Education Project, and UTSA History.