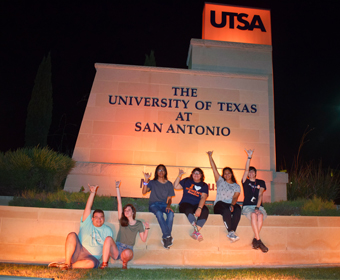 (Aug. 23, 2019) – Hours after the sun goes down this Sunday night, the UTSA Main Campus will be filled with lights, color and music for UTSA Midnight Light. One of UTSA's most exciting traditions brings students, faculty and staff together to show their Roadrunner spirit as the university lights up the Monuments, signifying the start of the 2019-20 academic year. The late night pep rally also features music, fireworks and fellowship.
Midnight Light begins at 11:30 p.m. on Sunday, Aug. 25 at the John Peace Blvd entrance of Main Campus. President Taylor Eighmy, Rowdy, UTSA Cheer and the Spirit of San Antonio Marching Band will lead the excitement. Following the lighting at midnight, 'Runners will enjoy fireworks, music, and a special presentation of the Monument light sequences and their meanings.
This gathering at the Monuments on the night before classes has been a UTSA tradition since 2014. The UTSA Monuments are an award-winning architectural element unique to campus; they are lit up nightly throughout the year with various color patterns to recognize academic achievements, athletic victories, and special occasions.
To prepare for Midnight Light, the John Peace Blvd. entrance to campus will be closed on Sunday starting at 9 p.m. to create room for everyone to gather at the Monuments. Those driving to Main Campus to attend the event can enter campus through the Brenan Ave. entrance. There will be free parking available at the Tobin Ave. Garage for the duration of the event.
Midnight Light is one of many activities happening on the eve of the new school year as part of Roadrunner Days. Students who are new to campus can meet at the McKinney Humanities Building portico from 3 to 5 p.m. to get a personalized class tour. Next up, Kickback at the Union starts at 5 p.m. followed by a free screening of Avengers: Endgame in the Student Union Retama Auditorium (SU 2.02.02).

Roadrunner Days events continue on Monday, August 26, as students begin their fall 2019 classes. All 'Runners are encouraged to wear blue and orange to celebrate UTSA Spirit Day. Students will have a chance to learn about the new VIA U-Pass program at 9:00 a.m. at the Main Campus Oval. From 11 a.m. to 2 p.m., UTSA Involvement Ambassadors will be offering free pictures of students in the Student Union Paseo. Roadrunner Days continues through Sept. 7.
Students should download and use Event Pass on their mobile device to check into Roadrunner Days events and get the freebies being handed out. To set up Event Pass, students may log into RowdyLink, click on "Profile" and download the app using Apple Wallet or Google Play.