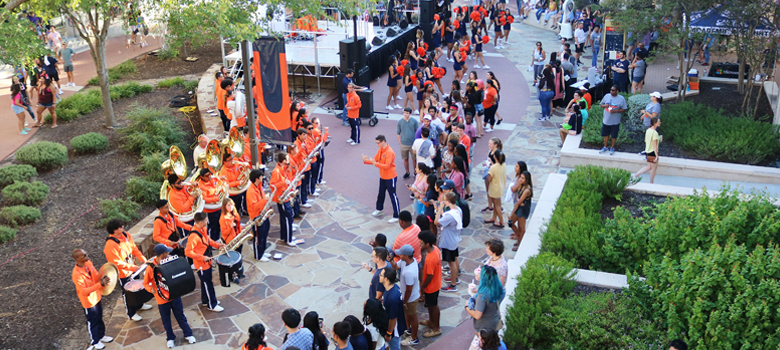 (Aug. 19, 2019) -- UTSA is preparing to kick off the 2019-2020 academic year with Roadrunner Days. The annual tradition features a series of events designed to help new and returning students make friends, learn about academic success resources, experience campus traditions, and find new ways to get involved in the UTSA community.
New this year, Roadrunner Days has been expanded to 16 days. It will run from Friday, August 23 to Saturday, September 7, offering students with an even greater selection of diverse activities.
Roadrunner Days begins with Residence Hall Move-In Day on Friday, August 23. Students living in Alvarez Hall, Chaparral Village and Laurel Village will start to move onto campus at 9 a.m., adding to the total of 4,300 Roadrunners who live on campus. Volunteers from various campus organizations will be available to lend a hand. Students and families are encouraged to visit Rowdy's Stop and Go, tents set up by each Residence Hall where snacks and refreshments will be served and university staff can share information and answer questions. Move-In continues on Saturday, August 24.
On Friday evening at 7:30 p.m., students and their families are encouraged to head over to the Student Union Paseo for the premiere performance of the Spirit of San Antonio marching band. Just follow the music. This exciting tradition gets everyone in the Roadrunner spirit.
Once everyone has made their residence hall feel like home, students are invited to Late Night at the Rec on Saturday night. A Roadrunner Days favorite, students will have fun participating in and learning about programs and facilities offered at the Recreation Wellness Center, or Campus Rec for short.
The Class of 2023 will get a jump start on navigating campus on Sunday, August 25. UTSA Ambassadors will give personalized class tours from 3 to 5 p.m. Next up, Kickback at the Union starts at 5 p.m. followed by a free screening of Avengers: Endgame in the Student Union Retama Auditorium (SU 2.02.02). To close the evening, one of UTSA's biggest and brightest traditions, the Midnight Light, will bring Roadrunner Nation together at the nostalgic Monuments located at the Main Campus Oval. Students will join President Taylor Eighmy, Rowdy, UTSA Cheer, SOSA and DJ Gumby as UTSA lights up the Monuments at the stroke of midnight to mark the start of the new academic year.
Class is in session beginning Monday, August 26. The entire UTSA community is encouraged to show their school pride on UTSA Spirit Day by wearing their orange and blue gear. On Monday at 9 a.m., students can hop on a bus for the official launch of the VIA U-Pass program, which allows all 'Runners to explore San Antonio for free on a VIA bus. Between classes, be sure to capture the memory of the first day of the semester with a free photo, taking place from 11 a.m. to 2 p.m. in the Student Union Paseo.
Additional events are scheduled throughout the first week of classes. The academic colleges will be holding open houses to allow students to meet faculty and staff and learn about the various majors offered at UTSA. The Downtown Campus will be the site of Birds Up Downtown on Tuesday, August 27 from 11:30 a.m. to 1:30 p.m. On Thursday, August 29, the Student Center for Community Engagement and Inclusion will host a Networking Social in the H-E-B Student Union Ballrooms (HSU 1.104/1.106) at 11 a.m.
The popular Howdy Rowdy Bash returns on Friday, August 30. For the second straight year, 'Runners will be taking over Six Flags Fiesta Texas. The event starts with a concert at 6 p.m. by Grammy-award-winning artist T-Pain, and includes exclusive ride time 7 to 11 p.m. Students can purchase tickets online for $30. Faculty, staff and family members can purchase tickets online and at the Main Campus Roadrunner Express Store for $35 beginning August 26 while supplies last. Howdy Rowdy Bash tickets include a "bounce back" ticket that will allow for another visit to the theme park in September. Fiesta Texas season passes are not valid for the Howdy Rowdy Bash.
Roadrunner Days is also an opportunity to show school spirit for UTSA athletes. Get excited for UTSA's first football game of the season against hometown rival University of the Incarnate Word. The fun gets started at the Hometown Showdown River Rally, scheduled at 6 p.m. on Thursday, August 29 at the Arneson River Theater in downtown San Antonio. The community pep rally will feature coaches, players, bands and cheerleaders from both schools. Then on Saturday, August 31, Roadrunner football opens its 9th season at the Alamodome. Fans are encouraged to cheer on the team during the Spirit Walk at 2:30 p.m. The game kicks off at 5 p.m.
Roadrunner Days takes a short break for the rest of the Labor Day holiday. When students return to campus, they are encouraged to explore the Get Involved Fair and Leadership Expo, a Career Center job fair, Open Mic Night, a women's soccer game, a volleyball game and the Roadrunner Success Walk. Learn more about these and other Roadrunner Days events.
Toward the end of Roadrunner Days, the UTSA community will give back on Saturday, September 7 during Roadrunner Days Service Projects. The entire UTSA community can sign up now to participate in one of many service projects.
Later that day, students are encouraged to cheer on the team during two volleyball games inside the Convocation Center before stopping by the John Peace Library for Library Quest, which gives students an opportunity to learn about the library while enjoying free ice cream.
Students should download and use Event Pass on their mobile device to check into Roadrunner Days events and get the freebies being handed out. To set up Event Pass, students may log into RowdyLink, click on "Profile" and download the app using Apple Wallet or Google Play.