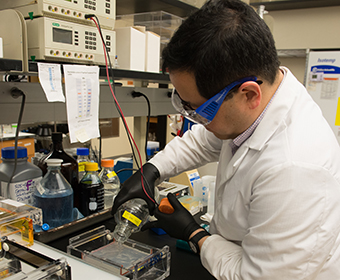 (Aug. 8, 2019) – This weekend, the San Antonio community will get an up-close and hands-on look at some of the innovative research underway at UTSA at Think Science and Discovery Day. Presented by Texas Public Radio, the interactive exhibit will showcase some of the exciting scientific work and discoveries happening in San Antonio, from 4 to 6:30 p.m. on Saturday, August 10 in the Feik Family Rotunda at the Tobin Center for the Performing Arts. The exhibit is free and open to the public.
Adults and children who attend the exhibit will experience science through hands-on displays and have the opportunity to visit with innovators who will be there to discuss the impact of their research.
UTSA's participants include:
Cyber Threat Defender
Guests will meet staff from the UTSA Center for Infrastructure Assurance and Security as they explore the world of STEM and cybersecurity. Guests will discover how games are being used to provide educational tools for teaching cybersecurity by students and teachers. They also will experience how the Cyber Threat Defender collectible card game is changing the way cybersecurity is taught in the classroom.
Monarch Butterfly Biology
Led by Janis Bush, chair of the UTSA Department of Environmental Science and Ecology, UTSA researchers will share the importance of milkweed and nectaring plants in Texas at this hands-on and interactive exhibit. Adults and children will make seed balls with native flowers and milkweed they can plant in their garden or toss anywhere they want to see more flowers, milkweed and butterflies. They will test their knowledge by playing "Guess the Native Butterfly." Guests will also learn about the flowers they can plant to help boost the monarch butterfly population.
Smart Stop Sign
Sara Ahmed, UTSA assistant professor of electrical and computer engineering, and Samer Dessouky, UTSA professor of civil and environmental engineering, have developed a low-cost, self-powered intersection detection and warning system to alert rural motorists about potential dangers. The next-generation stop sign uses a multi-pixel passive infrared sensor that detects a vehicle as it approaches an intersection. Once the vehicle is within the sensing range, a signal beacon triggers the stop sign's flashing system. Guests will see the smart stop sign, learn how it works and how it could potentially save lives.
3D Architectural Models
UTSA architecture researchers, led by Armando Araiza, UTSA lecturer and assistant department chair, will showcase a range of architectural models all made with either a 3D printer, laser cutter, plasma cutter or computer numerical control machine.
Small wind energy conversion system
Texas is the national leader in wind power generation. To lower the cost of wind power and foster the U.S. wind industry, Francisco Herbert, senior lecturer in the Department of Mechanical Engineering, and Mario Rodriguez, UTSA undergraduate student researcher, are making significant efforts to design and manufacture the next-generation wind energy conversion systems. In this interactive exhibit, adults and children will learn about the importance of wind energy and how to build and operate efficient low-cost small wind turbines that are able to power domestic applications. This wind energy conversion system is also one example of research done at UTSA, an urban serving knowledge enterprise seeking ways to help San Antonio address the growth it is experiencing.
Think Science and Discovery Day is in conjunction with Science Friday Live with Ira Flatow. The popular national radio show comes to the live stage at 7 p.m. on Saturday, August 10 at the Tobin Center for the Performing Arts. The programs feature live music, props, video screenings and demonstrations on topics specific to Texas. Jennifer Smith, assistant professor in the UTSA Department of Environmental Science and Ecology, will join the stage show, sharing some of her research on the effects of global change on birds.
UTSA employs more than 1,300 faculty members who are addressing society's grand challenges through research excellence that spans all disciplines. UTSA's research specialties include cyber, health, fundamental futures and social-economic transformation. The university has 77 endowed faculty positions and about 26% are funded at $1 million or more. Nearly three-quarters have terminal degrees from either Carnegie RI research universities or Association of American Universities institutions and 99% of tenured and tenure track faculty have doctorates or terminal degrees.