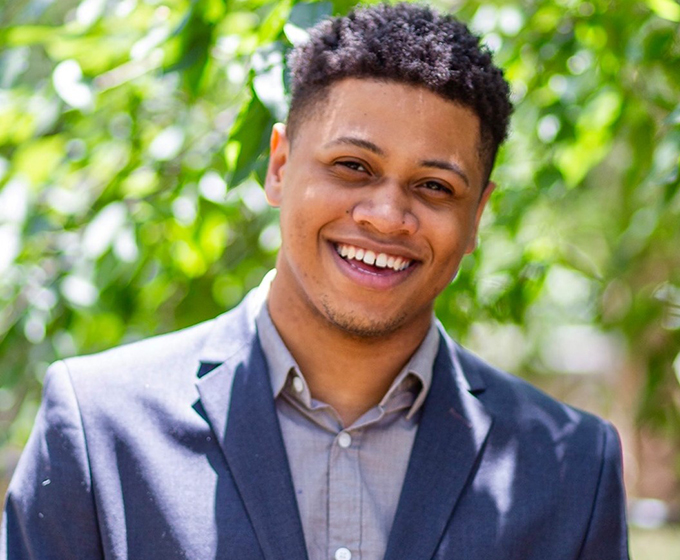 (Sept. 12, 2019) -- Global affairs and sociology double major and Honors College student Jay'Len Boone has been selected by the United Nations Association of the United States of America to serve as the Youth Observer to the United Nations for the 2019-2020 year.
UNA-USA appoints just one Youth Observer each year among a competitive pool of more than 200 students, aged 18-25. Recognized for his exceptional success as a UTSA student, Boone becomes the eighth student to serve in the role.
The program, which was created in 2012, aims to increase youth involvement in global affairs and connect young people in the U.S. to the mission of the United Nations.
Boone is excited to begin his work this year, recognizing the opportunity for impact as the U.S. representative.
 "I feel so honored to serve in a role where I will get the chance to speak and work on the ground with youth from across the country. This opportunity provides me with a direct avenue to strengthen U.S. relations with the UN, a task that I will get to enlist American youth in helping me accomplish," replied Boone.
At UTSA, Boone has excelled as a campus leader and peer mentor. He founded the nonprofit organization Sustainable Youth in Action, which empowers young people to solve social issues in their communities and is also a member of the President's Student Advisory Council.
A team of UTSA students have joined the initiative, which has raised money and awarded seed grants for student social entrepreneurship and collective social action that operates outside the dependence on government funding and large charities.
Boone's work with SYA is already very closely aligned with the UN's 2030 Sustainable Development goals, which operate as a blueprint to create a sustainable future without hunger, poverty, and inequality. 
These same goals have been integrated into the Honors College curriculum for first year students. Boone relates that his introduction to the goals has guided the work he does both out of class and in class.
"The UTSA Honors College curriculum challenges students to think beyond the classroom and implement what they learn in our local San Antonio community. Our college's innovative Civic Ethos course teaches us that true service does not assume need but rather goes out of its way to explore and question the actual needs of a group," said Boone. "I can't wait to take what I've learned from this and implement it across the nation. UTSA equips us with the tools we need to be effective community leaders."
Outside of UTSA's classrooms, Boone has engaged directly with many global issues pertinent to the UN's goals, studying in South Africa as a Global Poverty Project Curtis Scholar, interning in Hong Kong as a Cultural Vistas Fellow, and most recently this summer, working in Saudi Arabia.
As the Youth Observer, Boone will represent American youth voices at the United Nations. His activity will include visiting high schools and colleges nationwide, serving as a UNA-USA delegate at UN conferences, and attending UN briefings.
Boone's activity will be visible to the UTSA community through the Youth Observer's social media, where he will be the moderator and face of all public accounts.