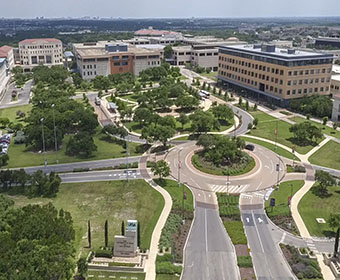 (Sept. 5, 2019) -- As part of the bold vision for UTSA to become an urban serving university of the future, the university is asking for university community input on renaming the Main Campus. The renaming is a critical element as UTSA focuses on the strategic growth and development of all four of its campuses.
"The nomenclature we use to describe our campuses is important. Through the many stakeholder conversations we had in conjunction with our campus master planning process over the last year, it became apparent that the name "Main Campus" no longer fits the vision of UTSA as one university with multiple campuses," said UTSA President Taylor Eighmy.
UTSA leadership heard from both external stakeholders and Roadrunner community that the current name seems to signify that the northwest campus will always be more important than the others.
Based on this feedback, UTSA is embarking on a process to rename the Main Campus. From now through September 10, the university is gathering ideas from the Roadrunner community for a new name.
UTSA staff will compile the best ideas and send another survey later this month, asking the community to rank their favorites, and the results will inform the final selection.
UTSA has no plan to change the names of its Downtown and Hemisfair Campuses. Once the new name for Main Campus has been selected, the university may consider renaming the Park West Campus to something complementary.