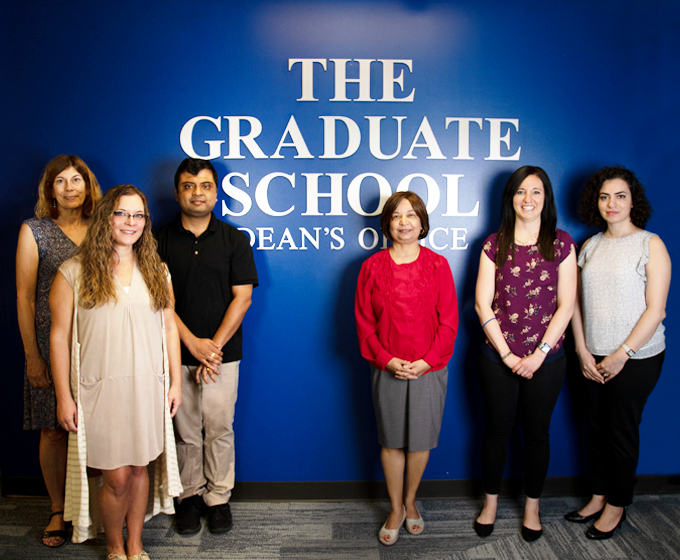 (Sept. 11, 2019) -- The UTSA Graduate School is pleased to announce the recipients of the 2019 Distinguished Research Fellowship for advanced Ph.D. students.
This new, competitive award program provides a stipend and tuition and fee support of up to $40,000 for one academic year. The award allows Ph.D. candidates to work full-time on their dissertations in anticipation of defending their dissertations by Aug. 31, 2020.
"The majority of our Ph.D. students struggle immensely to be able to continue their scholarly work and write their dissertations while working full- or part-time to support their families," said Ambika Mathur, vice provost and dean of the Graduate School.
"Oftentimes even the best students have to push their dissertation defense dates because they have not been able to make enough progress on writing. This annual support program will allow many exceptional UTSA doctoral candidates to have peace of mind and focus full-time on completing their degree so they can take the next steps in their professional career."
Overall, 38 students were nominated by their dissertation advisers in this inaugural award cycle. Nominees were judged based on several criteria, including dissertation research summary; potential impact their work may have in the field and their likelihood of future success in the field; career development activities; and prior evidence of professional scholarship, including scholarly publications, presentations and research proposals.
Six students are this year's DRF recipients:
Jamie Crosswhite is pursuing a Ph.D. in English in the College of Liberal and Fine Arts. Her dissertation synthesizes three area of scholarship—rhetoric, feminist geography and critical regionalism—to address how writers are exploring our contemporary relationships to land, climate and resources. Crosswhite was nominated for the fellowship by associate professor Sue Hum.
Tara Gray is pursuing a Ph.D. in physics in the College of Sciences. Gray was nominated by assistant professor Kathryn Mayer for her work testing the effects of gold nanoparticles in radiation therapy.
David Martinez-Prieto is pursuing a Ph.D. in culture, literacy and language in the College of Education and Human Development. He was nominated by Patricia Sánchez, professor and chair in the Department of Bicultural-Bilingual Studies. His work analyzes the impact of curriculum ideologies on transnational educators.
Solaleh Miar is pursuing a Ph.D. in biomedical engineering in the College of Engineering. Nominated by assistant professor Teja Guda, Miar is conducting research focused on advanced tissue regeneration and smart drug delivery systems.
Venkata Pavan Pillalamarri Narasimha Rao is pursuing a Ph.D. in mechanical engineering in the College of Engineering. His work involves experimental and computational modeling of pulmonary hypertension. He was nominated by associate professor Ender Finol.
Mary Whisenhunt is pursuing a Ph.D. in anthropology in the College of Liberal and Fine Arts. She was nominated by professor Robert J. Hard. Whisenhunt is studying ancient Native American societies along the Gila River in southeastern Arizona.
The UTSA Graduate School is committed to advancing academic excellence in graduate and postdoctoral education and training. Offering more than 100 doctoral and master's degrees and graduate certificate programs across its seven colleges, UTSA currently enrolls about 4,500 graduate students.