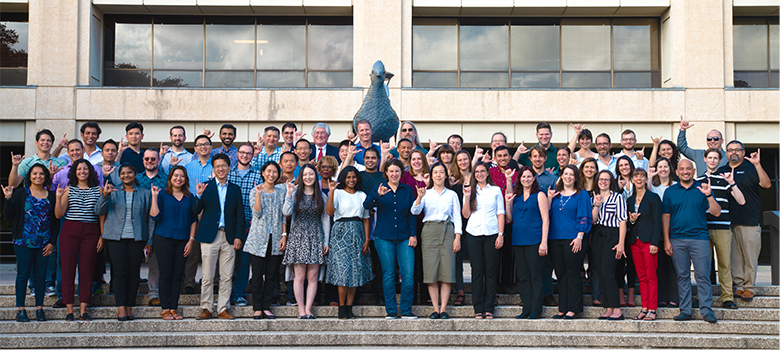 (Sept. 9, 2019) -- UTSA begins a new academic year with 52 new assistant, associate and full professors and more than 20 new full-time non-tenure-track faculty joining its ranks. The new faculty members bring their talent from a host of prestigious institutions from around the nation and world.
"We are welcoming a particularly impressive, enthusiastic and diverse group of faculty to UTSA this year devoted to academic excellence," said Kimberly Andrews Espy, provost and senior vice president for Academic Affairs. "Faculty drive the advancement of knowledge and discoveries to tackle society's grand challenges through the convergence of varied backgrounds, perspectives and ideas. Just as it is paramount for our faculty to ensure the success of our students, UTSA is dedicated to providing the research and teaching support structures and development opportunities to set our faculty up for success."
The incoming faculty members chose UTSA for a variety of reasons.
Dhireesha Kudithipudi, Ph.D. '06 joins UTSA as the Robert F. McDermott Chair in Engineering and professor of electrical and computer engineering. She most recently served as professor, graduate program chair, director of the Neuromorphic AI Lab and the director of the Center for Human-Aware AI in the Department of Computer Engineering at the Rochester Institute of Technology.
"An opportunity to establish a premium AI institute at my alma mater was exhilarating for me. It is a differential in UTSA's rapidly growing reputation," she shared. "One of my goals is to promote a transdisciplinary learning ethos in the next generation of engineers and scientists. UTSA offers a remarkable medium to accomplish this with a diverse first-generation student body."
"I decided to come to UTSA because I want to join a world-class faculty. I am passionate about teaching in a diverse setting and, in particular, first-generation students," said assistant professor of bicultural-bilingual studies Gilberto Lara, who earned a Ph.D. at UT Austin. "UTSA offers so many resources for faculty as far as support for research and professional growth as a researcher and scholar. I feel blessed to be part of the faculty here."
"I wanted to be at UTSA to return to my social work roots in a meaningful way. The graduate social work program at UTSA is unique in that it is part of a department that includes public administration and criminal justice, so the interdisciplinary nature of the program is a great fit for me and my experience and professional goals. I am definitely looking forward to being a part of the Roadrunner family and making a difference!" said Sherri Simmons-Horton, a university postdoctoral fellow in the Department of Social Work.
Within this cohort, 71 percent of the tenured/tenure-track faculty received their terminal degrees from Carnegie R1 research institutions, 35 percent from AAU member institutions and 15 percent from international universities. A few of these premier institutions include Arizona State University, Clemson University, Florida State University, Kansas State University, Pennsylvania State University, Rice University, University of Arizona, University of California-Los Angeles, University of Florida, University of Illinois at Chicago, University of Oklahoma, University of Texas at Austin, Virginia Tech, and the Yale School of Art.
Five of the faculty members who have joined UTSA this fall were hired to serve as department chairs, including:
Juan Gutierrez in Mathematics
Sushil Prasad in Computer Science
Ann Marie Ryan in Interdisciplinary Learning and Teaching
Angela Speck in Physics and Astronomy
Jon Taylor in Political Science and Geography
Six of this year's new faculty were hired as part of the Artificial Intelligence (AI) cluster hiring initiative, including Dr. Kudithipudi, who will lead this effort. Through cluster hiring initiatives, UTSA has hired 28 exceptional faculty over the past three years to help advance UTSA's areas of research excellence in brain health, cybersecurity, analytics and data science and AI.
Overall, thirteen incoming faculty were hired as a result of the programs that comprise Academic Affairs' Strategic Faculty Hiring initiatives. These programs support additional hiring of diverse full-time, tenured/tenure-track faculty who will advance inclusive excellence at UTSA through enhancing student success, research and academic distinction. Specifically, three underrepresented minority faculty were hired as a part of the Enhancing Academic Excellence through Accelerating Faculty Diversity Program and two senior faculty were successfully recruited to join UTSA this fall as a part of the Nationally Recognized Faculty Program.
Overall, eleven of the 52 (21.2%) new tenured/tenure track faculty hired this year identify as Hispanic, Black or African American, and American Indian or Alaskan Native. Notably, the number of incoming Hispanic faculty increased by 3.5 percent.
In addition, the Dual Career Academic Partners Hiring Program allowed three departments to recruit and hire high quality tenure-stream faculty and their partners.