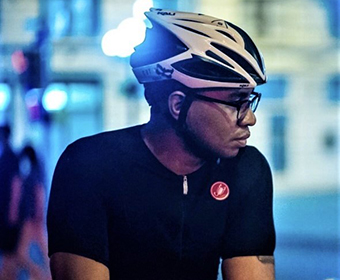 (Sept. 18, 2019) -- To support UTSA's emphasis on sustainability and to encourage safe bicycle riding on campus, the UTSA Office of Sustainability has opened the Tito Bradshaw Bicycle Repair Shop. To celebrate, the UTSA and San Antonio communities are invited to an all-day grand opening celebration on Tuesday, September 24 culminating with a ribbon cutting ceremony at 6 p.m.  
Housed in the newly renovated Ximenes Avenue information booth on UTSA's Main Campus, the repair shop holds tubes, lubricants, and an array of tools that will allow students to make small repairs on their bikes. The shop will be open weekdays from 3 p.m. to 6 or 7 p.m. The area around the shop has self-serve stations for students to repair their own bikes when the shop isn't open.
"Tito Bradshaw was a bicycle shop owner and community advocate who was struck by a car and killed earlier this year while riding his bike," said Lani May, director of the UTSA Office of Sustainability. "Naming the shop after him honors his efforts and, at the same time, speaks to UTSA's emphasis on community and sustainability."
The celebration will include a series of events throughout the day that promote bicycle safety. UTSA President Taylor Eighmy, Mayor Ron Nirenberg, District 8 Councilman Manny Pelaez, who represents the Main Campus area, and District 5 Councilwoman Shirley Gonzales, who represents the Downtown Campus area, will officially honor Tito Bradshaw with a ribbon cutting for the bike shop at 6 p.m.
The day of events include:
8:30 a.m.–12 p.m.: Bike shop tours
12–5 p.m.: Door prize signup
1–3 p.m.: Bicycle repair workshop
1–3 p.m.: Greenway tours
3:30 p.m.: Bike skills class
4–5 p.m.: Greenway tours
4–6 p.m.: Slack lining
The shop's creation is part of UTSA's #MakeUTSAwalkable alternative transportation initiative. Other recent efforts supporting the initiative include adding bike lanes, racks and wider sidewalks. Earlier this summer, the UTSA community and volunteers built a 300-foot long multi-use trail leading up to the shop.
Additionally, UTSA and VIA Metropolitan Transit have partnered to provide free, unlimited bus service to UTSA students, faculty and staff. The VIA U-Pass program offers cost savings and allows the campus community to leave vehicles at home, reducing traffic on campus roads and parking lots.