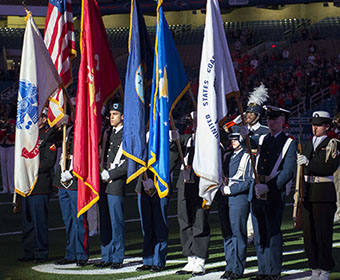 (Sept. 11, 2019) – UTSA Football will take on the Army Black Knights in the yearly Military Appreciation Game this weekend, marking the first meeting in history between the two football programs. The game will kick off at 2:30 p.m. Saturday, Sept. 14, at the Alamodome. Both teams have a 1-1 record this season. While the Roadrunners hope to bounce back from a loss at Baylor, Army aims to rebound from a double-overtime defeat at Michigan.
The Military Appreciation Game will feature many ceremonies to honor the military. UTSA Athletics, in partnership with the UTSA Office of Veteran and Military Affairs, has organized a Tickets for Troops initiative leading up to the UTSA-Army game. To recognize and show appreciation to those who defend our country, Tickets for Troops can be purchased for $10 each. UTSA has partnered with military and veteran affairs offices to provide those tickets to local veterans and active-duty military members to attend the game. More than 6,800 tickets have already been distributed to those who are serving or have served. Individuals, businesses and other organizations can join the cause by purchasing tickets online or by calling 210-458-UTSA (8872).
Roadrunner Nation is invited to show its school spirit this week with family-friendly activities.
Game week excitement:
Game Week Wednesday
Wednesday, 11 a.m. to 1 p.m., Central Plaza, Main Campus

Join Rowdy Crew for this mid-week gathering to gear up for this weekend's game. Learn how to be a part of the full game day experience and meet student-athletes while enjoying games, giveways, snacks and tons of fun.
The Frank Wilson Show
Wednesday, 7 p.m., The Sandbox, 7280 UTSA Blvd., San Antonio

Fans are invited to join Coach Wilson and host Andy Everett for the one-hour radio show in its new location within walking distance of the UTSA Main Campus. There will be a chance for attendees to win prizes and giveaways. Fans also can call in at 210-736-9760 and listen on Ticket 760 AM, Ticket760.com and at goUTSA.com.
The Frank Wilson Show will continue at the same time each Wednesday throughout the season, except for a Tuesday 6 p.m. start on Oct. 29 and Nov. 19.
UTSA Football Insider
The 30-minute television program will air on AT&T SportsNet each Friday throughout the football season. Air times vary so check channel listings. In San Antonio, the program will air at 10:30 a.m. each Saturday on KMYS-CW 35. Full episodes also will be available on the UTSA Athletics website after the program airs on TV.
Pre-Game:
Rowdy Town 
Saturday, 11 a.m. H-E-B Plaza and VIA Bridge, north side of the Alamodome

Roadrunner fans of all ages can take part in free pregame festivities including food, games and inflatables. There will be performances by the 323rd Army Band between noon and 1:30 p.m., as well as local Junior ROTC performances from noon to 2 p.m. Army and Air Force interactive displays will also be set up at Rowdy Town.
Rowdy Crew Tailgate 
Saturday, 11:30 a.m., Alamodome Lot C

Students and their families will enjoy free food and non-alcoholic drinks (while supplies last), music and more.

UTSA Alumni Tailgate
Saturday, 11:30 a.m., Alamodome Lot C, along Cherry St. between Wyoming St. and Dashiell St.

The UTSA Alumni Association invites fans to the official Roadrunner Nation tailgate with food, music, a live watch party and more. There will be food, music, a live watch party and more. For more information, visit the UTSA Alumni Association website.

Spirit Walk
Saturday, 12:30 p.m., Alamodome, Roadrunner Alley, between Lots B and C

This is an exciting tradition for fans to get the team pumped for the game. Join the Spirit of San Antonio and UTSA Spirit squads as they lead the team down Roadrunner Alley and into the Alamodome two hours before each home game. Fans can line the walkway between the Alamodome parking lots B and C, cheering and showing the team they're behind them 100 percent. Fans can look for orange smoke in this area to know when it's time for the Spirit Walk.
Going to the game:
Get Your Tickets
All UTSA games offer free admission for UTSA students with UTSA ID. Students may also purchase up to four guest tickets at $10 each. Get ticket information.
Fans should be aware of the Alamodome clear bag policy including a list of the approved bags.
Game Day Parking:

Parking at the Alamodome is limited to fans with a season pass, but there are many other places to park or get to the game.
VIA U-Pass Game Day Service from Main Campus

UTSA and VIA Metropolitan Transit  have partnered to offer VIA U-Pass Game Day Service, which will provide a special route called "route 93 - Alamodome Express" for all six of the Roadrunners' home contests this season.
VIA U-Pass Game Day Service is available to UTSA students and employees free of charge with VIA U-Pass. Non-UTSA riders can purchase a Day Pass for $2.75 at the ticket trailer on site.
The service will begin two-and-a-half hours prior to kickoff with boarding located at the UTSA Campus Oval on the northeast corner of Main Campus and drop off at the Alamodome. 
Riders also can use the service after the conclusion of the game to return to campus.
VIA Park and Ride
VIA Park and Ride locations will continue to operate following standard Park and Ride rates and charges. VIA U-Pass is not valid at Park and Ride locations.
Downtown Campus Parking

Students can park in any unmarked spaces on Saturdays at the Downtown Campus in Lots D-3 and D-4 under IH-35. They can catch the VIA Route 100 Promo on Buena Vista St. at North Pecos St. near UTSA Lot D-1. Look for VIA's bus stop signage.
Institute of Texan Cultures Parking

Limited parking is available at the UTSA Institute of Texan Cultures for $20. The lot opens three hours prior to game time and remains open until one hour after the game ends. Tailgating and open containers are not permitted. UTSA parking permits are not valid for game-day parking.
Rideshare 
The drop-off and pick-up location for rideshare users is located in the parking lot next to the Henry B. Gonzalez Convention Center at the corner of Montana Street and Tower of Americas Way. 
Alamodome Entry
Doors will open to the public an hour and a half before kickoff. Fans are encouraged to be in their seats for the pregame festivities on the field featuring the Spirit of San Antonio Marching Band 15 minutes before kickoff. The Alamodome provides countdown to kickoff alerts in the parking lots in the hour leading up to game. The security team will visit the parking lots to sound an air horn at one hour, 30 minutes and 15 minutes prior to kickoff to help remind fans to begin heading to the Alamodome. 
Game Day Traditions and Social Media

Get into game mode by brushing up on UTSA game traditions and other important information. Stay engaged with fellow Roadrunners by sharing your UTSA Game Day experiences on social media using #UTSA, #BirdsUp, #GoRunners and #DefendTheDome. Also, follow UTSA Football and UTSA Athletics on Twitter.
Can't make it? Watch or listen live!

Saturday's game will be televised nationally on NFL Network. Check your local listings for availability in your area, or with your cable or satellite provider. Live access to NFL Network is also available through the NFL app or online (cable/satellite provider credentials are required to stream the game).
The radio broadcast can be heard on Ticket 760 AM in San Antonio and live online at goUTSA.com, TuneIn.com, and Ticket760.com via the iHeartRadio app. The pregame show begins at 12:30 p.m. and there will be a 45-minute postgame show.
Campus Experience

During the football season, the Monument lights and Student Union Tower lights will glow blue and orange during home game weeks. After a win, the lights turn orange in celebration for the rest of the weekend.