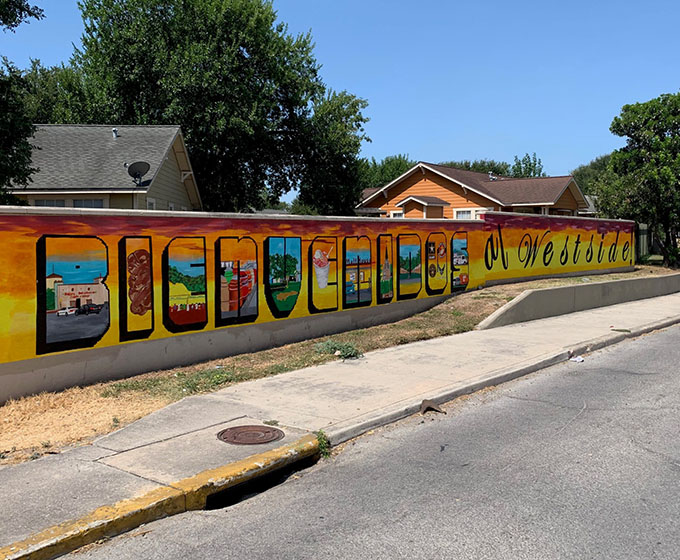 (Sept. 10, 2019) -- The University of Texas at San Antonio (UTSA) today announced a Westside Community Partnerships Initiative to help it shape educational, economic and cultural programs and services for individuals living and working in Westside zip codes, including 78207, 78237, 78226, 78228, 78201, 78227, 78236 and 78204.
The initiative aligns with UTSA's 10-year campus master plan process that establishes a framework for the development of academic, research and community outreach programs to serve San Antonio's growing population. By creating a forum to encourage ongoing university-community dialogue, the Westside Community Partnerships Initiative will help ensure that those programs and services are shaped in a way that addresses the unique needs of the community.
"As an urban serving university, UTSA is committed to deepening our relationships with all areas of San Antonio – particularly those that have been historically underserved. We're starting with a focus on the Westside in light of its proximity to our Downtown Campus," said UTSA President Taylor Eighmy.
"This initiative is very much a draft, and we're actively seeking community input. It serves as an invitation for Westside organizations to collaborate with UTSA, and we're looking forward to continuing to shape this effort together with new and existing partners," said Eighmy.
UTSA co-developed the initiative with the National Association of Latino Community Asset Builders (NALCAB), a nationally recognized non-profit organization specializing in research and data-driven strategies to support equitable neighborhood development. 
UTSA's Westside Community Partnerships Initiative will include four task forces focused on specific needs of the Westside community: economic prosperity; educational excellence; community-based research, sustainable partnerships and advocacy; and community-campus engagement.
The Task Force on Creating Pathways to Economic Prosperity will focus on creating economic opportunities by exploring and developing localized employment and small business development pathway programs for Westside residents. Its work will include gaining a full understanding of Opportunity Zone incentives impacting the Westside and formulating recommendations for the consideration of the steering committee.
To increase the number of Westside students that matriculate to and graduate from UTSA, the Task Force on Creating Pathways to Educational Excellence will explore and establish UTSA enrollment pathways for Westside youth as well as continuing education and professional development opportunities for adults. The group will integrate efforts among university faculty, K-12 school leadership, school staff, families and communities to successfully transform professional educator preparation and outcomes for K-12 students.
The Community-Based Research, Sustainable Partnerships and Advocacy Task Force will provide scholarly expertise and facilitate community-based research efforts to inform the public policy issues most impacting Westside neighborhood integrity, such as housing displacement, historical preservation, access to higher education and social service challenges. The task force will work closely with Westside residents and community leaders, UTSA faculty members and UTSA organizational units such as the Urban Education Institute, Policy Studies Center and Institute of Economic Development to develop a framework for engaging in research and incubating community partnerships that are relevant, reciprocal and sustainable.
The Task Force on Fostering Community-Campus Engagement will oversee UTSA's efforts to engage and support the Westside Community through programming, services and institutional policies. This task force will support Westside arts and culture organizations, convey UTSA's services and programs to the Westside and ensure that the Downtown Campus is welcoming to the community. 
UTSA will also form a Westside Community Advisory Council, comprised of external and internal stakeholders, to help drive the initiative. Working closely with the UTSA Vice President for University Relations and the students, faculty and staff on the task forces, the advisory council will help guide UTSA in maximizing the economic and cultural strengths of the Westside while identifying and addressing current challenges.
UTSA began its Main and Downtown Campus master planning process in 2018 and is working with NALCAB to conduct research on vulnerable people and institutions on the Westside.