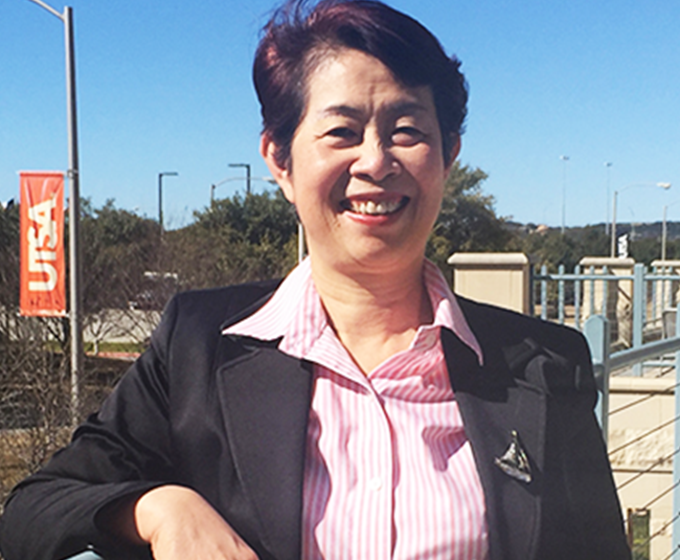 (Sept. 16, 2019) -- At a time when cancer is the leading cause of death among Hispanics in the United States, faculty members at The University of Texas at San Antonio have received a new grant to reduce the risk of this deadly disease. The funding will allow UTSA researchers to expand their Building a Healthy Temple program, which integrates spiritual and physical health to reduce chronic disease risks, to 30 churches on San Antonio's Westside and in the Rio Grande Valley. 
The Cancer Prevention and Research Institute of Texas awarded Meizi He, a professor in the Department of Kinesiology, Health and Nutrition under UTSA's College of Education and Human Development, nearly $2 million for her project, titled Expansion of the Building a Healthy Temple Cancer Prevention Program in Bexar County and Rio Grande Valley. He will work alongside her two co-program directors, Summer Wilmoth, a research scientist and UTSA alumna, and Thomas Turk, M.D., a family practitioner and president of Puentes de Cristo, to grow their faith-based cancer prevention program. 
Poor diet, physical inactivity and obesity are all preventable cancer risk factors. To combat them, the BHT team educates and supports at-risk children, teens and adults with health programming in their faith communities. 
"Having good health and preventing chronic disease are important aspects of quality of life, so we are focused on helping people who may not have access to routine medical services," said He. "Over the past nine years the Building a Healthy Temple initiative has been very successful in helping people establish good nutrition, keep up with regular physical activity and maintain a healthy body weight to ultimately reduce cancer risks." 
The BHT Cancer Prevention Program has benefited thousands of people to date. Over the next two years it is expected to reach 7,500 new congregants and community members and serve individuals from five counties (Bexar, Cameron, Hidalgo, Starr and Willacy). 
Those participants will benefit from initiation of a Health Ministry Committee; church health-conducive environment and policy changes; monthly Medical Moments; churchwide health events; access to colorectal cancer screenings; and a 12-month, 22-session, Scripture-based health education curriculum and support group. 
To ensure the sustainability of the program, BHT staff will establish church Health Ministries and train congregants to be leaders who implement the program at their respective churches. The churches will also be given cost-free access to a variety of resources and activities to sustain their programs, such as health sermons, health-related Sunday school curriculum, Healthy Vacation Bible School, and additional nutrition and physical activity resources. 
"The Bible tells us that we need to treat our bodies like a temple," said He. "The Building a Healthy Temple program combines faith and health to encourage congregants to make lifestyle changes that will remain a part of their life for many years." 
He's BHT Cancer Prevention Program is just one of the faith-based health programs within UTSA's family of health promotion programs. Other BHT programs promote healthier faith communities by addressing cancer, diabetes and obesity-related health issues through the integration of spiritual and physical health. 
The first BHT program was established in 2010. Since that time, the family of programs has served thousands of people in dozens of churches, and their participants have seen significant improvement in weight, physical activity, eating behaviors, bodyweight and waist circumference.