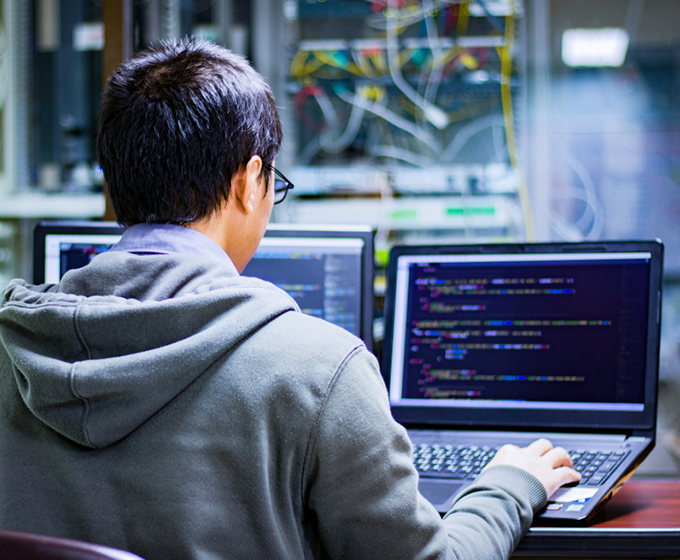 (Sept. 23, 2019) -- The National Security Agency/Central Security Service launches their 2019 Codebreaker Challenge with a tech talk at UTSA on Sept. 23. Hosted by the UTSA National Security Collaboration Center and NSA/CSS Texas, the event is free and open to all students and their faculty mentors from the San Antonio and the South Central Texas region.
Codebreaker Challenge developer Eric Bryant will present the tech talk and answer questions about this year's challenge, focused on mobile message application.
The NSA Codebreaker Challenge provides students with a hands-on opportunity to develop their reverse-engineering and low-level code analysis skills while working on a realistic problem set centered around the NSA's mission.
The event will take place at the UTSA Main Campus in the John Peace Library fourth floor Assembly Room (JPL 4.04.22). Doors open at 2:30 p.m. The talk is scheduled to begin at 3 p.m. with a Q&A to follow. Pizza will be served. Representatives from NSA/CSS Texas and Maryland HQs will have a recruitment table for students to liaise and ask questions before and after the talk.
⇒
To register
for the 2019 Codebreaker Challenge Launch at UTSA
⇒
To view
the live stream of the event
"Developing complex coding skills is vital to our national security to defend against both existing and emerging cyber threats," said retired Air Force Brig. Gen. Guy M. Walsh, who is executive director of the UTSA National Security Collaboration Center. "The demands in both government and industry for a trained workforce and employees with coding and programming skills continues to grow. UTSA prides itself in teaching our students both technical skill sets as well as how to think strategically to resolve challenges that have no defined solutions in the cyber world.
A type of Capture the Flag scenario is created where students use their skills and acumen to do some reverse engineering, vulnerability analysis, and exploit development. There is usually a unique twist added to test the participants. In 2018 the scenario involved exploiting ransomware developed using Ethereum Smart Contracts. That same year, there were 377 entries from across the country with the Oregon State team winning the 2018 Codebreaker Challenge with nearly 35,000 points.
The Codebreaker Challenge consists of a series of tasks that are worth varying amount of points based upon their difficulty. Once the Challenge goes live, all tasks are available and can be solved in any order, although there may be some dependencies between them. Point value is based on relative difficulty. It is still recommended to solve tasks in order as the tasks flow with the storyline, but that is not a requirement. Solutions may be submitted at any time for the duration of the challenge. Schools are ranked according to the total number of points accumulated by their students.
"Codebreaker Challenge is a unique, nontraditional approach to recruiting, where we are introduced to talented students and amazing schools," said Kathy Hutson, senior strategist for Academic Engagement at the NSA.