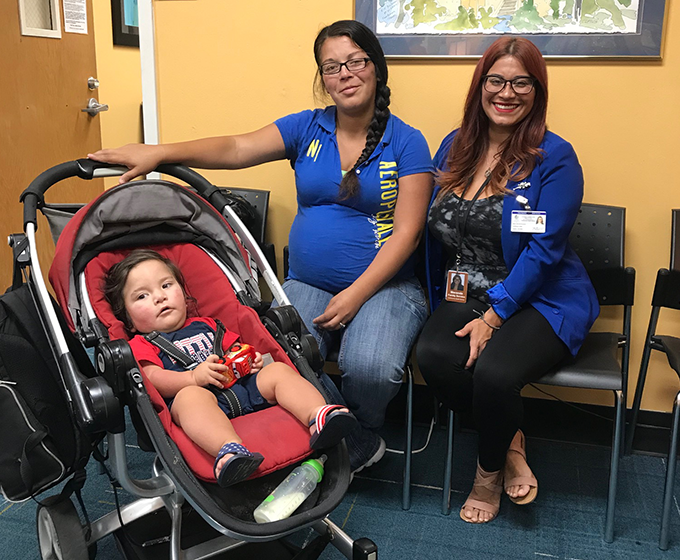 Sept. 30, 2019 -- UTSA, an urban serving university committed to tackling San Antonio's grand challenges, is collaborating with District 5 City Councilwoman Shirley Gonzales, the Family Service and Northwest Vista College to reduce child abuse in one of the most economically distressed parts of the city.
Together, the partners are implementing and evaluating a District 5 Child Maltreatment Prevention Project that aims to provide Promotoras job training and subsequently place those Promotoras in the community to work with targeted, at-risk families. 
In 2017, San Antonio had the third highest rate of reported child abuse cases in Texas, with a total of 5,588 confirmed cases of child abuse and neglect. Within San Antonio, Child Protective Services referrals are higher in District 5 than in any other part of the city. 
"We found that the most effective way to change that reality was through peer-to-peer intervention," said Councilwoman Gonzalez. "That's what the Promotoras are. Much like a 'comadre' network, they build trust, educate and make a difference from a position of familiarity." 
Promotoras are knowledgeable in a variety of areas, including individual and family functioning, safe environments in the home and how to acquire services or assistance needed by families. 
Ten individuals completed the Promotoras training program in May 2018. Family Service subsequently employed four Promotoras from that cohort to serve families in the 78207 and District 5 community. Three of those Promotoras are serving today. The fourth has returned to school. The remaining six Promotoras have been placed at other agencies. 
"Family Service is exceptionally honored to be piloting this community-based approach to addressing child abuse and neglect in City Council District 5. We believe firmly in the power of neighbor-to-neighbor engagement as an effective means to improve the holistic support for families, ensuring that every child has the ability to grow up in a loving, nurturing and supportive family and community" said Richard Davidson, chief operating officer at Family Service. 
UTSA criminal justice professor Megan Bears Augustyn is conducting a process evaluation and an outcome evaluation on the two-year project to determine whether it is achieving its intended effect of reducing child maltreatment. 
"Given the vast array of consequences associated with child maltreatment, including neglect, physical, sexual and/or emotional abuse, it is a worthwhile endeavor to stymie or prevent any form of maltreatment," said Bears Augustyn. "Not only are the children benefiting from the program, but the parents and parents-to-be are as well. Someone cares and the community is serving its citizens to improve lives." 
Maranda Hernandez, the mother of a son, was doing kitchen work when she decided to become a Promotora. She was taking a nurturing class as a first-time mother when she learned about District 5's Community Health Worker program. During a ride-along with a trained Promotora, she was so inspired to help that she decided to earn her Promotora certification. 
"I had the opportunity to see the impact and I wanted to be part of it," said Hernandez.  
Now, Hernandez is sharing her nurturing skills with Felicia Turner, a mother of four who is expecting her fifth child. Due to a Child Protective Services case, Turner's oldest three children live with her mother. 
"Once my CPS case was closed, I continued attending the parenting classes because I really enjoyed them," said Turner. "Honestly, you can't ever know enough about your children. Through this program, I learned how to be a better mother and nurture my kids." 
When Turner's youngest child is enrolled in preschool, she plans to find a full-time job to better support her five children. 
"A lot of people on the Westside don't know where to go to get the help they need. Some of them are young mothers themselves, and we understand how stressful it can be to raise a child with little resources," said Hernandez. "Promotoras will serve as a valuable resource to young families. We live right here with them—on the Westside." 
To date, over 56 at-risk families have been helped through the program, which is supported by $130,000 in funding from the City of San Antonio. 
"This is a true community collaborative effort," said Councilwoman Gonzales. "Projects like the Promotoras pilot work best when partners like UTSA, Family Service, Northwest Vista College and the City of San Antonio come together with a common goal. It serves as a model for other cities and agencies to follow."