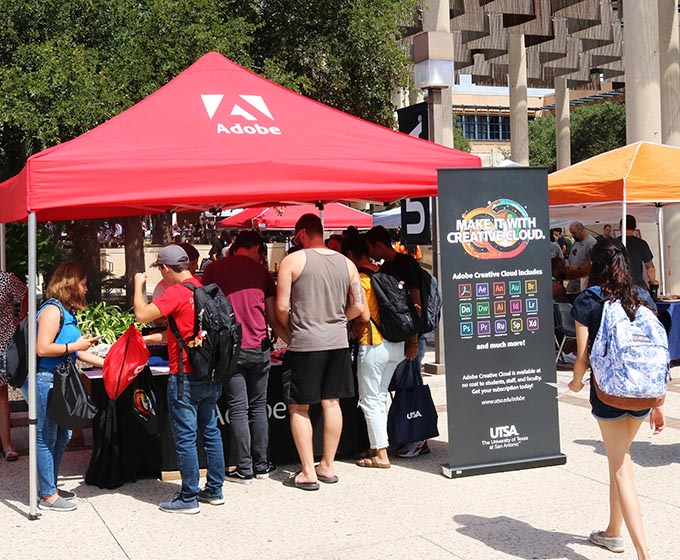 Oct. 2, 2019 — The University of Texas at San Antonio has been recognized as an Adobe Creative Campus through a new program developed by the multinational software company to promote digital literacy in higher education. UTSA is the first four-year public campus in Texas to be designated an Adobe Creative Campus, joining such schools as Berkeley and Penn State. 
"Becoming an Adobe Creative Campus advances our institutional goals of promoting digital literacy for the entire university community and democratizes access to powerful storytelling tools for our students," says Kimberly Andrews Espy, provost and senior vice president for academic affairs. "These tools give agency to students in their learning. Our Roadrunner students will be able to create robust digital portfolios to support both their classroom- and career-related activities, regardless of their area of study. For instance, students studying data science will benefit from the suite's capabilities for data visualization, 3D modeling, and more." 
As part of the partnership UTSA now offers Adobe Creative Cloud to all students, faculty and staff on all their devices at no additional charge. The Creative Cloud suite includes popular software applications for video, design, photography and web, including PhotoShop, Spark, InDesign, Illustrator, Premier Pro and Acrobat. 
⇒ For FAQ and instructions on downloading Creative Cloud to university-owned or personal devices, visit utsa.edu/adobe.
"In addition to offering access to these powerful applications, being an Adobe Creative Campus also will help us empower our faculty with digital literacy skills," says Melissa Vito, interim vice provost for academic innovation. "We will be offering training on the suite and expect to create a community of Adobe practitioners on campus who can collaborate and share ideas." 
Adobe representatives were on hand at the Get Involved Fairs during Roadrunner Days in September to promote the program. Just in the past week Adobe and the University Technology Solutions office hosted a two-day digital literacy workshop for faculty and staff, and Adobe education ambassador Vincent Fu visited campus to conduct a workshop and speak at a leadership conference for students.