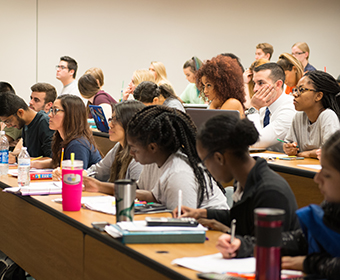 Oct. 01, 2019 — Fall 2019 enrollment at The University of Texas at San Antonio has reached a record high: 32,792 students now are pursuing degrees and taking coursework at the university, according to new data from the UTSA Office of Institutional Research. 
Of note, UTSA saw an 11% increase in its doctoral student population to 912 students this year, and enrollment in the university's fully online B.B.A. in cybersecurity rose nearly 27% to 207 students this fall. Enrollment growth was supported by improvements this year in undergraduate retention and persistence rates for the Roadrunner cohort: first-year retention improved to 77.9% and third-year persistence to 57.6%; second-year persistence remained at 65.3%. 
Graduation rates also improved significantly over the past year. The six-year undergraduate graduation rate of UTSA's Roadrunner cohort increased to 50.8%, a year-over-year increase of 6.4 percentage points and a five-year jump of 14.8 percentage points. Four-year graduation rates for the Roadrunner cohort also increased at a similar rate over the period to 30.4%. UTSA conferred 7,029 bachelor's, master's and doctoral degrees during 2018–2019, more than in any other academic cycle of the university's 50-year history. 
"Our students understand that higher education is the great equalizer, and UTSA faculty and staff are committed to providing every resource possible to help our students be successful," said President Taylor Eighmy. "These rapidly growing enrollment and graduation rates are a testament to the exceptional work taking place across our university community." 
Over the past several years UTSA has developed and implemented dozens of student success programs to boost the retention and graduation rates of its undergraduate students. These include personalized advising and outreach programs, support communities for first-generation and transfer students, programs focused on math and STEM success, new technology that flags students who are academically at risk, and the Graduation Help Desk, which assists students in navigating their unique roadblocks to degree completion. 
Highlights from the latest report show improvement in other areas, including: 
An increase in the number of incoming freshmen who graduated in the top 10% of their high school graduating classes (19% this fall versus 16% last fall) and an increase in those who graduated in the top quartile (59% versus 55%);
Enrollment of 224 new students, including 216 freshmen, in the UTSA Honors College. These new freshmen had an average SAT score of 1,373, an average ACT score of 30 and an average rank among the top 11% of their high school graduating classes;
The majority of the university's students identify as Hispanic (56%), contributing to a 64% underrepresented minority student population. Nearly 45% of UTSA undergraduates are first-generation students whose parents or guardians have not earned a four-year degree.
"We are making steady progress on our institutional goal to be a model for student success," said Provost and Senior Vice President for Academic Affairs Kimberly Andrews Espy. "UTSA is on the move—our intentional interventions have yielded important progress over a relatively short period of time. UTSA is graduating a record number of students who are well prepared for today's knowledge economy to address the workforce needs of our city and state." 
UTSA's fall 2019 enrollment also includes a 1% increase in new transfer students to yield an overall population of 41% this fall. In 2018 UTSA launched a transfer portal with an online course credit calculator to ease the transfer process for Texas students. Between now and the next admissions cycle, the university will continue to aid transfer students as a partner in the Alamo Area College Access and Completion Consortium and in the South and Central Texas Transfer Compact. Both organizations enable higher education professionals to collaboratively establish best practices that help transfer students ensure the courses they take are transferrable to a four-year degree program. 
In January 2020 UTSA will unveil its second fully online degree program. The bachelor's in multidisciplinary studies will allow students to merge three programs of study, including one liberal arts area of study, to develop a personalized program that meets their interests and professional goals. Like its campus-based counterpart, this online degree program is expected to support working professionals to return to UTSA to earn their bachelor's degrees.