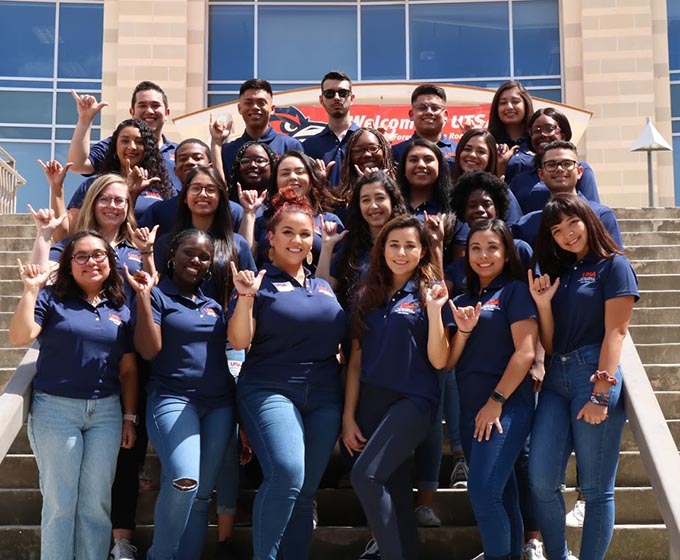 Oct. 3, 2019 — The UTSA First Generation and Transfer Student Center has been recognized by Excelencia in Education as a Program to Watch for 2019–2020. UTSA is one of only 20 programs out of 166 that were nominated for this recognition.
Excelencia in Education is a national organization based in Washington, D.C., that is committed to promoting the academic and economic success of Latino student populations and propelling them into positions of leadership in U.S. society.
The First Generation and Transfer Student Center provides students with mentoring, student-success activities and community-building opportunities through the First to Go and Graduate and the Roadrunner Transition Experience programs. Both initiatives aim to increase retention and graduation rates of the students they serve.
Forty-five percent of UTSA undergraduates are first-generation college students and 41% are transfer students.
Rooted in the belief that peer mentors and faculty coaches can provide students with valuable and relatable information, resources and advice, the FGTSC is a space and support network that helps these student populations become more engaged and therefore more likely to graduate.
Based on the data, this approach appears to be working. For the fall 2017 cohort the first-year retention rate was 85% for students in the F2G&G program and 86% for students in the RTE program. For the fall 2018 cohort the first-year retention rate was 77% and 88%, respectively. These retention rates fall in line with the university's goal to reach an 85% first-year retention rate by 2023, which is one of the institutional targets set by President Taylor Eighmy.
"It is a significant accomplishment for our First Generation and Transfer Student Center to be nationally recognized for the positive impact its programs are having on helping our students navigate their way through college towards graduation," said Tammy Wyatt, vice provost for student success. "UTSA is proud to be a Hispanic-Serving Institution that is proving a model for other universities as they focus more attention on serving vulnerable student populations.
F2G&G and FTE are two of four PIVOT for Academic Success programs at UTSA that are funded by a U.S. Department of Education Title V grant.
As a next generation, Hispanic-thriving, multicultural institution where students from all backgrounds can excel, UTSA serves as a prosperity engine graduating world-engaged civic leaders of tomorrow.