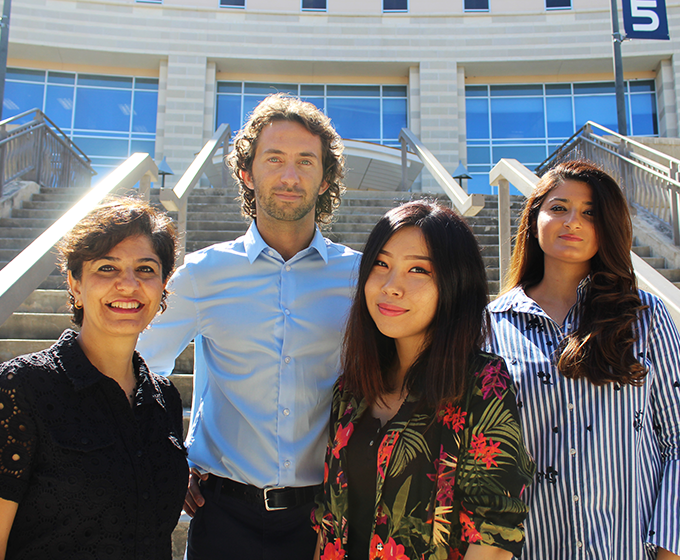 Oct. 10, 2019 — Four international scholars are further developing their research, studies and careers via UTSA's Office of International Services as part of the Fulbright Scholar Program. 
Aysem Berrin Cakmakli, a professor at the Middle East Technical University in Ankara, Turkey, is working in the UTSA Department of Architecture with a focus on the urban heat effect. 
"My research topic is the mitigation strategies of urban heat island effect, especially in the hot climates," Cakmakli said. "In these recent years the energy topics are really important because of the energy crisis and also because of the effects of global warming. I want to concentrate on the urban heat island effect, how we can mitigate the effects of it, and what preventions we can take in order to decrease the temperature rise, especially in urban areas." 
As part of the Fulbright program, Cakmakli will remain at UTSA for a year to work on her research and write some articles before returning to her home university in August 2020. 
German J. Soldano of the National University of Córdoba in Córdoba, Argentina, recently completed the program after conducting research in the UTSA Department of Physics and Astronomy. 
As someone who works in the theoretical branch of science, Soldano conducted research with an experimental group to compare predictions in the nanotechnology field. 
"We interact dynamically with an experimental group and they suggest some experiment, or they already have some results and we need to confirm because sometimes they cannot explain it, especially in the nanotechnology field," he said. "If we have the same results, or similar results, we can then start to really make a dynamic collaboration because we can test things better in the computer than in the experiments." 
During his time at UTSA, Soldano also worked with Ph.D. students and is expected to be part of one of their evaluations in the future. 
While the Fulbright program has been a research opportunity for Cakmakli and Soldano, for Aleksandra Montotova, it's about sharing her native Russian language. 
Montotova, who taught English as a second language at the Big Ben Linguistic Centre in Irkutsk, Russia, is working as a foreign language teaching assistant in the UTSA Department of Modern Languages and Literature. 
"I help two professors teach their classes. Starting from mid-October I will be teaching one of the professor's classes," she said. "I also teach one-on-one classes with students who need to catch up. I'm responsible for organizing the Russian table. It's like one hour of discussion and language games. We also do Russian club once a month." 
Montotova plans to stay at UTSA until May 2020 and apply her experience when she returns to Russia. 
Amina Alobaidli, a senior planner at the Urban Planning and Development Authority in Bahrain, is using her opportunity in the Fulbright program by continuing her higher education and working toward a master of arts in urban and regional planning at UTSA. It's an area of study that is not available back home, Alobaidli said. 
"I don't really have much knowledge about urban planning, so this is my opportunity to learn more about urban planning and how it works," she said. "I'm getting to learn all of these things that will eventually help me when I go back home to my job." 
While Alobaidli is working toward her master's as a nonthesis student, one of her classes is still allowing her to take part in some research. 
"In my transportation class we're doing a new mobility study as a group, and it's a research project for the new school at the Downtown Campus," Alobaidli said. "We're doing field studies that are related to transportation planning and how we could improve it in the downtown area." 
Alobaidli plans to complete the program and graduate in May 2021. 
Established in 1946, the Fulbright Scholar Program provides grants and scholarships to graduate students, recent graduates, teachers and professionals, allowing participants to further their education, research and teaching abilities. Annually nearly 8,000 grants are awarded with about 1,900 U.S. students, 4,000 foreign students, 1,200 U.S. scholars and 900 visiting scholars as well as teachers and professionals.