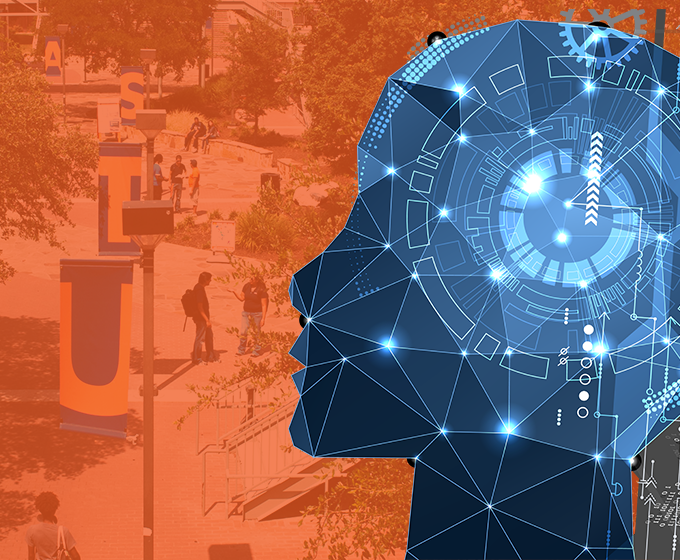 Nov. 21, 2019 — The University of Texas at San Antonio is participating in a pioneering program to introduce artificial intelligence principles to students in all academic disciplines.
UTSA is working with MITRE, a not-for-profit corporation dedicated to research and development in the public interest, to help faculty develop lesson modules incorporating AI, big data analytics and data visualization in classrooms across campus this academic year.
The project, codenamed "Generation AI Nexus" or "Gen AI," refers to anyone born in 1995 and later. The goal is to help all students, regardless of their major, understand AI and how to use it as an effective tool.
"As an organization of system thinkers and problem solvers, MITRE recognizes the need for novel partnerships with universities to develop talent for the 21st century workforce," said Bobby Blount, department head for cyber ops and C2 effects at MITRE. "Through our collaboration with UTSA, we can provide students with an academic foundation and real-world experiences. Gen AI can open doors, so that students can try their hand at solving problems of national importance, be considered for internships and jobs, and drive the development of the AI economy."
---
"Through our collaboration with UTSA, we can provide students with an academic foundation and real-world experiences. Gen AI can open doors."
—BOBBY BLOUNT, Department Head for Cyber Ops at MITRE
---
---
UTSA faculty have the freedom to design their own Gen AI projects. Those with experience in AI, machine learning or data analysis can team up with less-experienced colleagues. All participants will have access to additional training.
Gen AI encourages sharing ideas across institutions to build and foster a community. Faculty will upload their modules to a central repository, where they can also browse and download lessons and data sets for their own classes.
"There is a global AI shortage, which will only increase year by year. This translates to a great opportunity for workforce development: jobs ranging from data scientists to machine learning engineers; analytics managers to predictive modelers; from computational linguists to information strategy managers—careers with a variety of skills required to pull and analyze data to solve the most challenging problems, effectively, in any field," said Bernard Arulanandam, UTSA vice president for research, economic development, and knowledge enterprise.
Ashwin Malshe, assistant professor in marketing, is leading the GenAI implementation this semester. He was part of the initial pilot earlier this year along with Jianwei Niu (computer science), Paul Rad (information systems and cybersecurity) and Jeff Prevost (electrical engineering).
Participating faculty in the program this semester include Jaime Hincapie (geological sciences), Augustine Osman (psychology), David Senseman (biology), Hamidreza Moradi (computer science) and Malshe. Seok Kang (communication), Debaditya Chakraborty (construction sciences) and Rebecca Schroeder (University College) are developing lessons for the spring semester.
As part of the project, UTSA is curating a data set around veterans' resilience, one of the National Challenge problems Gen AI is focusing on. The UTSA team is creating ten AI-based lesson modules in at least five different disciplines. These lessons each include a lecture presentation, notes and a homework assignment.
MITRE approached UTSA to participate as an early adopter of the Gen AI program because of its recent cross-disciplinary cluster hire of data analytics faculty.
"This partnership is a prime example of how cluster hires support our teaching mission in addition to our research mission," said Kimberly Andrews Espy, provost and senior vice president for academic affairs. "One of the objectives of our Clustered and Connected Hiring Program is to strengthen existing and create new curricular offerings for our students. Through the Gen AI coursework, UTSA students in diverse majors will gain understanding and skills in artificial intelligence and related fields, making their UTSA degrees all the more competitive."
The program is now in a two-year pioneer phase, and has expanded to include University of Virginia, Virginia Tech, Purdue, Marymount, University of Maryland at Shady Grove, and Worcester Polytechnic Institute. Following the pioneer phase, Gen AI will launch publicly on a wider scale.
MITRE is one of UTSA's National Security Collaboration Center partners, and the project is jointly supported by the offices of academic affairs and knowledge enterprise.