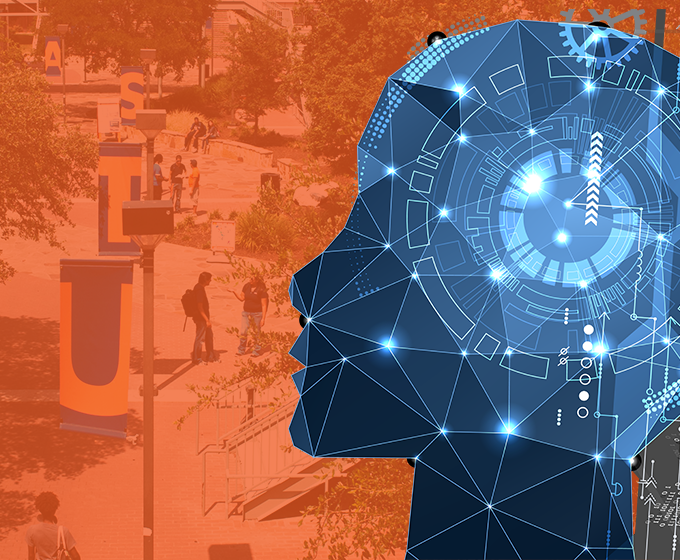 Nov. 6, 2019 — Artificial Intelligence is a key focus for The University of Texas at San Antonio. Solidifying this cluster of research activity into a collaborative forum is the launch of the university's inaugural AI Summit, taking place Nov. 11. Nationally recognized AI experts from across the country will discuss their advanced research with the UTSA community. 
Leading the institution's AI efforts as part of a burgeoning consortium is Dhireesha Kudithipudi '06, the Robert F. McDermott Chair in Engineering, director of the AI Consortium, and professor of electrical and computer engineering and computer science. Her research expertise is in neurally-inspired AI algorithms, AI accelerators, energy-efficient machine learning, and novel computing substrates.
"The goal of the AI initiative at UTSA is to strategically collaborate and engage with the private sector, academia, the Greater San Antonio community and key international partners to advance the state of the art with transdisciplinary solutions," Kudithipudi said. "UTSA has been carving a niche in this space with strategic cluster hires over the past few years. The university and its partners already have a strong presence in neuroscience, brain health, cybersecurity and applied domains. The summit kick-starts UTSA's AI initiative and showcases revolutionary technological advances from thought leaders in the field."
Featured speakers include:
Brad Aimone, principal member, technical staff, data-driven and neural computing group, Sandia National Laboratories (keynote speaker)
Kal Clark, assistant professor of clinical ER radiology, UT Health San Antonio
David Crandall, associate professor of computer science, Indiana University
Cameron Haight, VP & CTO for Americas, VMWare
Michael Hawrylycz, investigator, Allen Institute for Brain Science (keynote speaker)
Amarjot Singh, founder and CEO of Skylar Labs/postdoctoral fellow, Stanford University
U.S. Rep. Will Hurd, representing Texas' 23rd district, will also speak at the summit. A tireless advocate for cyber and national security, Hurd will discuss the need for a national AI strategy and how institutions like UTSA are essential to American leadership in the critical technologies that will define the 21st century.
"For America to remain a global leader, we must be able to take advantage of technology before it takes advantage of us and lead in advanced technology like artificial intelligence that will define the course of this century," Hurd said. "I applaud UTSA for hosting this AI summit and collaborating with the public and private sectors to bring attention to these issues and conduct research right here in San Antonio as we work to create a national AI strategy."
---
⇒ Learn more about UTSA's inaugural AI Summit.
---
Most digital solutions today can benefit from AI or machine-learning algorithms to some degree—whether it is automating a process in smart homes, classifying genetic sequences, interpreting medical images, predicting disease gradations or classifying data on the fly in an autonomous vehicle.
Due to the broad reach and wide-scale impact of these technologies, there is not only an institutional need but also a national strategic initiative that is driving AI research. Unlike with any other research domain, countries are building a national comprehensive AI strategic plan. More than 20 have developed such a plan, including the United States.
"Investing in this technology and resources to advance this research is critical. UTSA should have a presence in this space and be actively contributing to advance the fundamental research. We cannot be left behind. This impacts every industry you can think of in some form or another," said Bernard Arulanandam, UTSA's vice president for research, economic development and knowledge enterprise.
"In addition, we need to prepare our students to work in this ever-changing job environment to develop the requisite skill set and to differentiate themselves in the job market," added JoAnn Browning, dean of UTSA's College of Engineering and interim dean of the College of Architecture, Construction and Planning. The institution also needs to offer the right set of educational experiences for students in which to engage. This summit will show students how UTSA is contributing toward the field and build excitement."
There will be a distinguished panel discussing organizational AI research initiatives and projects. Panelists include David Chambers of Southwest Research Institute, Niall Gaffney of Texas Advanced Computing Center, Catherine Schumann of Oak Ridge National Laboratory, and Qing Wu of the Air Force Research Laboratory. Their research organizations are advancing AI in multiple domains, and each will speak about strategic initiatives and critical transdisciplinary research.
"This summit is about generating new ideas and collaborations among faculty—and to give this field a forward momentum," Kudithipudi said. "We are also extending an invite to external research partners, demonstrating that UTSA is investing in this field and that we want to accelerate and expand existing research activities, whether it be in the sciences, engineering or the liberal arts."
Members of the organizing committee are UTSA faculty Amanda Fernandez (computer science), Edward Golob (psychology), Yanmin Gong (electrical and computer engineering), Max Kilger (information systems and cybersecurity), Amina Qutub (biomedical engineering) and Jianhua Ruan (computer science) as well as Robert Clark and Meredith Zozus from UT Health SA and Christopher Mentzer from Southwest Research Institute.
"The slate of confirmed speakers represents a portfolio of trailblazing AI research, advancing the state of the art in unique and creative ways," said David Silva, dean of UTSA's Colleges of Sciences. "They're researchers who are taking algorithms and deploying in the field to address real-world problems, such as human trafficking, proactively identifying cancer or resolving computational bandwidth resources with supercomputing systems. This is one summit every student and researcher at UTSA should attend."