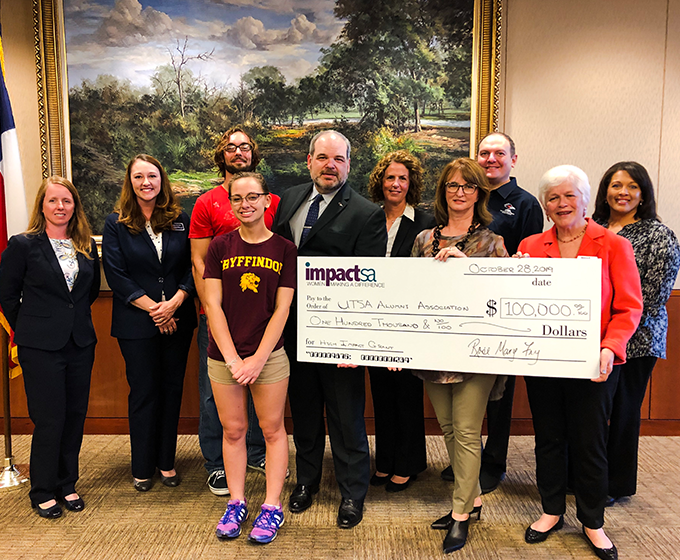 Nov. 4, 2019 — UTSA has received a $100,000 high-impact grant from the group Impact San Antonio to launch a six-day summer orientation program for incoming and transferring students with a history of foster care. The Early Start Experience program will launch in summer 2020.
Impact San Antonio is a collective-giving, grant-making organization that empowers women to make the most of their charitable donation to impact the Greater San Antonio community and the nonprofits that serve it.
"We are so grateful to the members of Impact San Antonio for this transformational grant," said UTSA first lady Peggy Eighmy. "Because of this new partnership, UTSA is able to provide innovative programming and an inclusive and supportive community that will ease the often stressful and challenging transition to higher education and will best position our students with a history of foster care for success at UTSA and beyond."
Approximately 60 incoming and transfer students with a history of foster care will be served by the ESE through Impact San Antonio's grant award. The ESE is designed to bridge the transition to college by creating a sense of community among students and connecting them with academic programs and supportive staff before the semester begins.
Peer mentoring is a central component of the program, connecting incoming students with upperclassmen and graduate students with a history of foster care who can share lived experiences of foster care and navigating college life.
The Early Start Experience will have a signficant impact on first-year retention, GPA and overall campus engagement, which has an effect on future persistence and graduation. The ESE is a critical component of UTSA's larger inititiave to support students with a history of foster care, and will be facilitated by the university's Fostering Educational Success Center.