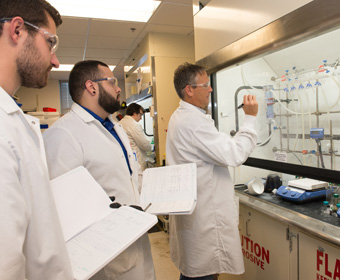 Nov. 13, 2019 — UTSA's Office of Commercialization and Innovation honored faculty, staff and student achievements on Tuesday at the university's seventh annual Innovation Awards. The event celebrated 42 members of the research community for their contribution and the successful commercialization of novel ideas and inventions. 
The culmination of the awards was the selection of Stanton F. McHardy as the 2019 Innovator of the Year. The award is based on a number of factors, including technology disclosures, patent filings, issued patents, licenses and overall innovation and ideation. 
McHardy is a professor of research, an associate professor of chemistry and director of UTSA's Center for Innovative Drug Discovery, a joint venture between UTSA and UT Health San Antonio. The center provides a diverse array of core facilities and expertise to facilitate the translation of basic scientific discoveries into tangible preclinical candidate drugs that can be further developed into clinical therapies for human disease. An active researcher, he has brought over $10 million of research funding in the past few years. His patent application for small molecule drugs for the treatment of obesity and neurological diseases was recently licensed by Ridgeline Therapeutics. 
UTSA also recognized members of its research community in three additional categories, reflecting the university's success at commercializing new knowledge and technologies. 
---
⇒ Learn more about the UTSA Innovation Awards.
⇒ Learn more about commercialization of intellectual property and technology transfer at UTSA.
---
"These awards not only recognize the UTSA research community's accomplishments but also serve to inspire researchers to take a transdisciplinary approach to their work and create collaborations outside their disciplines and fields," said Bernard Arulanandam, vice president for research, economic development and knowledge enterprise. "Our goal is to foster a research-intensive environment where faculty and students can flourish and their work can address society's big challenges. Arulanandam was also recognized for being the latest inductee into the National Academy of Inventors.
The keynote speaker for the evening, Maria Zannes, is CEO of BioAffinity Technologies, which specializes in noninvasive, early stage cancer diagnostics and targeted therapeutics. Zannes has more than 30 years of executive-level management experience. An attorney who specialized in regulatory law, she has worked as a top aide in the U.S. Congress; directed efforts leading to federal and state agency approvals; and successfully lobbied numerous state legislatures, Congress, and federal administrations. BioAffinity resides in UTSA's New Venture Incubator, directed by the Office of Commercialization and Innovation. 
OCI provides UTSA students, faculty and staff with commercialization assistance and nurtures university-industry partnerships. Services include intellectual property management and licensing, proof-of-concept development, new venture incubation, entrepreneurial training, and policies and procedures that accelerate and ease the transition of intellectual property and technologies from the university to industry. 
"By highlighting the commercialization successes of the UTSA community, we hope it serves to inspire more people as new therapeutics, innovative materials, and other products designed to improve our lives are developed," said Christine Burke, director of commercialization and tech transfer. 


---
UTSA's 2019 Innovation Awards Winners
---
ISSUED INTELLECTUAL PROPERTY
Recipients of issued patents. This past year, there were 38 patent recipients with 24 patents issued. 
ACTIVE UTSA FACULTY MEMBERS 
Eugene Britto John, Safwat Mostafa Noor
Method and apparatus for reducing power and cycle requirement for FFT of ECG signals (Patent 10359832, United States). Improvements to medical devices that reduce the processing power needed to execute an electrocardiogram. 
Banglin Chen, Bin Li, Hui-Min Wen
Porous metal-organic framework with pyrimidine groups for methane storage exhibiting high working capacity (Patent 10150095, United States). Materials useful for purification of hydrogen gas from methane and carbon dioxide, sensing, catalysis, drug delivery, lithium sulfide battery, membrane and analytical devices.
Banglin Chen, Tong-Liang Hu
Microporous metal-organic frameworks for the removal of acetylene from ethylene (Patent 10279334, United States). Materials useful for the separation of industrial gases without having to use extremely high heat. 
Zachary Hamilton, Susana A. Martinez, Ahmed Alsheri, William Tirado
Marksmanship training aid (Patent 10260845, United States). A device that attaches to a rife that provides feedback to the shooter to improve marksmanship. 
Brian Kelley, Jackseario Rosario
Power quality of service optimization for microgrids (Patent 10211638, United States). A design for a power microgrid that balances power demanded by the customers with the energy supplied by the sustainable sources such as solar. 
Ram Krishnan, Ravi Sandhu
Authorization Policy for Group-Centric Secure Info Sharing (Patent 10116664, United States). Computer access control system that enables consistency of specification and enforcement of authorization policies. 
Peyman Najafirad, Mohan Kumar Muppidi, Sos Agaian, Mo Jamshidi
Systems and methods for containerizing multilayer image segmentation (Patent 10217017, United States). Improved automatic object detection in a digital image. 
Arturo Ponce-Pedraza, Miguel Jose-Yacaman, John Eder Sanchez
Systems and methods for measuring magnetic fields produced within microscopes (Patent 10373801, United States). An improvement to a microscope which allows the researcher to measure magnetic fields in a sample being studied. 
David Alvin Tyvoll, Christopher S. Navara, James P. Collman, Christopher Jeffrey Barile
Mitochondrial inhibitors for use in culturing pluripotent stem cells (Patent 10196604, United States). Compounds that allow stem cells to retain their ability to become new cell types. 
Jing Yong Ye, He Huang
Backprojection approach for photoacoustic image reconstruction (Patent 10157483, United States). Improvements to a photoacoustic imaging system that produces more detailed medical images. 
FORMER UTSA FACULTY MEMBERS & EMPLOYEES 
Mauli Agrawal, Steven R. Bailey, Jordan Kaufmann
Scaffold system for tissue repair (Patent 10376394, United States; EP 2544624, Belgium, Switzerland, Germany, Spain, France, United Kingdom, Ireland, Sweden; CA 2829881, Canada; AU 2017200200, Australia). Expendable scaffold that serves as a temporary template that allows damaged tissue to be rebuilt. 
Sos Agaian, Ali Almuntashri, Clara M. Mosquera-Lopez, Richard Metzler
Systems and methods for automated screening and prognosis of cancer from whole-slide biopsy images (Patent 10192099, United States). Software that automatically screens biopsy slides for the presence of cancer. 
Sos Agaian, James Christopher Collins
System and device for preventing attacks in real-time networked environments (Patent 10230739, United States). A filter for a data network that prevents malware from making it to users' computers. 
Brent M. Nowak, Leonid Bunegin, Pamela G. Ferguson
Advanced cervical ripening system (Patent 10207090, United States). Medical device to assist the dilation of the cervix during childbirth.  
LICENSING REVENUE
Innovators with optioned or licensed technology that has generated returns for the university. 
Doug Frantz
New chiral phosphite ligands for asymmetric catalysis. (Building block organic molecules that make certain reactions easier.) 
Ruyan Guo, Amar Bhalla
Master agreement for sponsored research. (For research related to 3D printing and improvements to industrial machines.)  
NSF I-CORPS RECOGNITION
Faculty, staff, students and team mentors who have participated in the National Science Foundation's Innovation Corps. This accelerator program takes a mentored research team through the customer discovery process so that they can better understand both what is needed in the marketplace and what a business will need to do for it to be successful. 
StatTree
A software tool that makes it easier to pick the right statistical test for one's data. H. Paul LeBlanc III, principal investigator; David Cortez, entrepreneurial lead; and Les Doss, mentor.