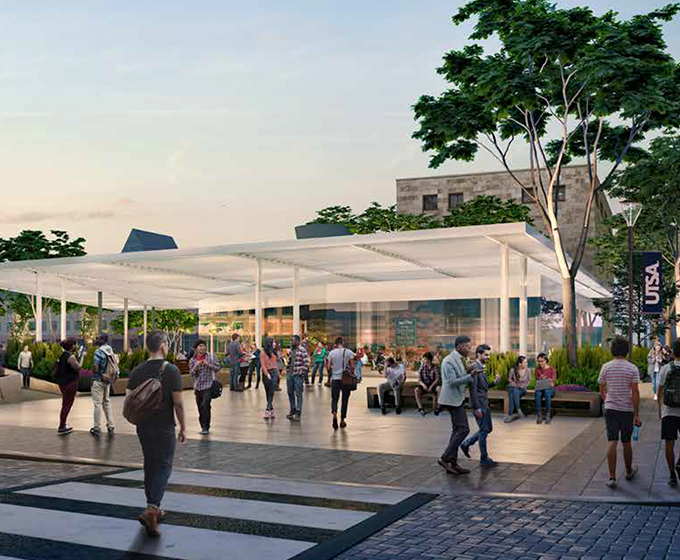 Nov. 11, 2019 — Editor's note: Provost and Vice President for Academic Affairs Kimberly Andrews Espy sent the following message to all faculty and staff today:
Dear Colleagues, 
In June 2018, UTSA launched the Campus Master Plan Initiative to guide the physical growth of our university over the next decade in alignment with our academic mission and strategic priorities. I had the honor to lead the Campus Master Plan Task Force, a representative group of university leadership and internal stakeholders. Our charge was a bold one: to create a planning framework for developing the campuses to support a projected student enrollment of 45,000—in alignment with our destinations to be a Model for Student Success, a Great Public Research University, and an Exemplar for Strategic Growth and Innovative Excellence—while simultaneously integrating best practices of sustainability, enhancing our natural resources and enriching the culture of the campuses and surrounding communities. 
I am excited today to share the Campus Master Plan final draft with you. 
This plan was created in consultation with the design firm Page and is the culmination of a broad, deep and highly collaborative engagement process involving UTSA staff, faculty, students, alumni and community members. Over the yearlong planning process, thousands of stakeholders provided input on the plan's guiding principles and design iterations through individual interviews, targeted focus groups and committee meetings, on- and off-campus forums, and a comprehensive online survey. 
The Campus Master Plan presents several key ideas for Main Campus:
Introduce a signature open space, the Via Verde, in the center of campus
Establish a Southeastern Gateway mixed-use district for students that facilitates public-private partnerships
Create a true campus loop road to ease vehicular congestion and promote pedestrian circulation
Better utilize Park West Campus for specific athletics and recreation facilities.
Because of its unique environment, plans for the Downtown Campus were developed with a distinct set of planning principles: promote community partnerships; embrace San Antonio's urban environment, including its unique arts and culture; enhance pedestrian connections to surrounding areas and connect campus facilities; and create a complete, comprehensive UTSA campus. Key plan ideas for the Downtown Campus reflect those principles:
Embrace a distributed urban campus model and expand to surrounding blocks
Create physical and programmatic points of entry to connect the campus to the community, including the Westside as part of UTSA's Westside Community Partnerships Initiative, as part of our commitment as a Hispanic-serving institution.
In total, the plan calls for adding nearly 5.3 million gross square feet of new space to accommodate the growth in campus population and the university's projected academic and research priorities; these new buildings and features would be constructed over many years to come, as funding and resources allow. In addition to addressing space deficits and associated infrastructure needs, the plan also embraces a number of commitments accordant with UTSA's role as an urban-serving university:
Share facilities with our neighbors
Promote a welcoming environment for the local community
Increase and improve open space
Promote cultural heritage and art
Provide in-community learning experiences
Support local businesses and organizations
Become a leader in sustainability and environmental stewardship.
This week, President Eighmy will present the plan to the UT System Board of Regents for final approval. Once approved, it will serve as a living document as we begin the next phases of our campus development, and future phases, as well. 
Thanks to all of you who participated in the development of this plan—whether you served on the task force, took part in a public forum, or responded to the online survey; your input was invaluable in shaping this final document. I encourage you to explore the plan and learn about the exciting future it lays out for our university and our community. As always, we welcome your feedback at masterplan@utsa.edu.