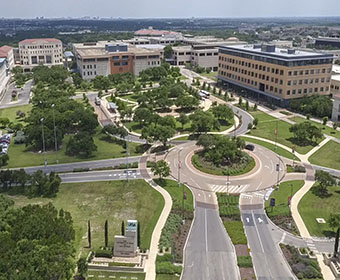 Nov. 18, 2019 —UTSA has hosted its key national laboratory research partners for a forum on collaboration and discussion of active research initiatives. 
Leadership from Idaho National Laboratory, Oak Ridge National Laboratory and Sandia National Laboratories were in attendance alongside local leaders like Paula Gold-Williams, president and CEO of CPS Energy, and her team as well as NSA Texas and Joint Base San Antonio. The event fostered discussions in topic areas of joint activity, including advanced manufacturing, impact of 5G, electromagnetic defense and smart grid security—all of importance to the Department of Energy's National Laboratories System, consisting of 17 institutions dedicated to scientific innovation across the country. 
"These research partnerships are key in growing our innovation and discovery. By taking a transdisciplinary approach and with the collective strength of our research programs, we can tackle complex large-scale challenges in any sector, leveraging our strengths in cyber, fabrication and processes," said UTSA President Taylor Eighmy. 
During the forum Howard Grimes from UTSA gave an update on the Cybersecurity Manufacturing Innovation Institute (CyManII), a consortium of 60 organizations from across the nation—academic, industry, nonprofit and the national lab system—which is leveraging cybersecurity to secure the digital supply chain in manufacturing. The team is developing sophisticated cybersecure technologies for implementation by small, medium and large manufacturers to raise the global competitiveness of the U.S. manufacturing sector. 
CyManII is housed within the National Security Collaboration Center at UTSA. Led by retired Air Force Brig. Gen. Guy M. Walsh, the NSCC has served as the catalyst to strengthen alliances with the three key DOE labs. There are emerging research collaborations and joint projects focusing on cybersecurity, data analytics, critical infrastructure and grid resiliency.