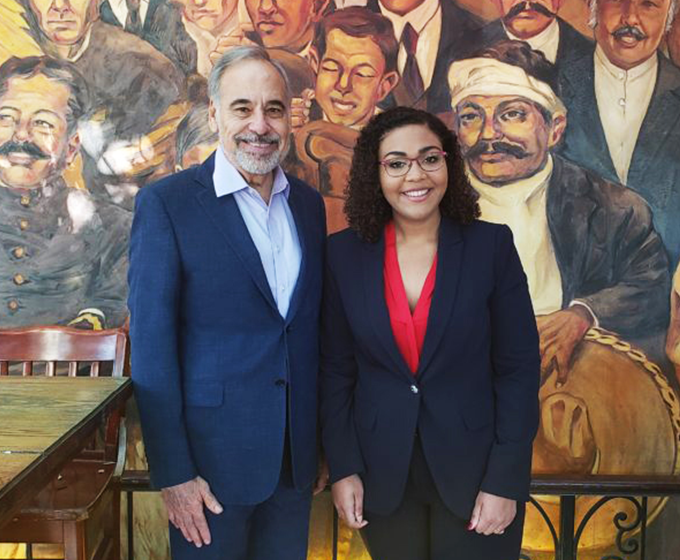 Nov. 22, 2019 — UTSA public administration student Jaida Sloan is a driven young woman who is passionate about educational policy and social justice.
A native of Des Moines, Iowa, Sloan is on her way to help her community thrive thanks to the Henry B. Gonzalez Endowed Scholarship. Sloan is the first recipient of this prestigious award, which honors the life and legacy of the late congressman, who made a tremendous impact on policy and politics.
Sloan is a transfer student from San Antonio College, majoring at UTSA in public administration with a minor in politics and law. Now she will have the ability to pursue her dreams of becoming a lawyer and improving the lives of underserved populations.
As a high school student, Sloan enjoyed being part of the debate team, researching topics and presenting arguments. After graduating from high school she enrolled at San Antonio College. She did not know she really wanted to dive into public service until she got to college. She volunteered with youth from low socioeconomic backgrounds and grew a profound interest in educational policy. Her mom, who is a teacher, incurred much debt as she worked hard to attain her degree.
---
"The scholarship reminds me that no matter where you came from, you can be anything you want to be."
—JAIDA SLOAN, Public Admininstration Undergraduate Student
---
---
Sloan is grateful for the Gonzalez scholarship to supplement her cost of tuition so that she can graduate and accomplish her goals. The scholarship also afforded her the chance to learn more about the late congressman and the values he stood for.
"The scholarship reminds me that no matter where you came from, you can be anything you want to be," she said. "It's great to see that Henry B. Gonzalez and I have a few things in common. We both attended San Antonio College, took great pride in education, developed an interest in politics and law, and worked with youths."
Sloan plans to pursue a joint master's program in public policy and law, eventually acquiring a master's in public policy as well as a Juris Doctor. She takes an interest in immigration law, environmental law and educational policy—all topics important to her career goals.
"My father would be proud to know a UTSA scholarship bearing his name is helping a deserving student such as Jaida to pursue and achieve her dreams," said the Hon. Charles Gonzalez, son of Rep. Henry B. Gonzalez.
Sloan is thankful to UTSA for the many opportunities that enabled her to succeed. "I am especially grateful for Francine Romero for giving me the opportunity to meet and thank the Hon. Charlie Gonzalez and everyone involved in setting up the endowment," she said. "I also thank my professor Timothy Trevino for informing me of the Public Policy & International Affairs Junior Summer Institute, in which if accepted, I will take a summer course to prepare for my master's."
After she completes the program, Sloan will receive special scholarship opportunities from prestigious master's programs around the nation that are affiliated with the program.
In her spare time Sloan says she enjoys reading classical literature, listening to political podcasts and watching movies on empowering women.
Named for the late Rep. Gonzalez, a trailblazer who left a lasting impact on his local, state and national community, the Henry B. Gonzalez Endowed Scholarship provides a springboard for UTSA students pursuing a degree in either public administration or criminal justice to fulfill their academic goals.