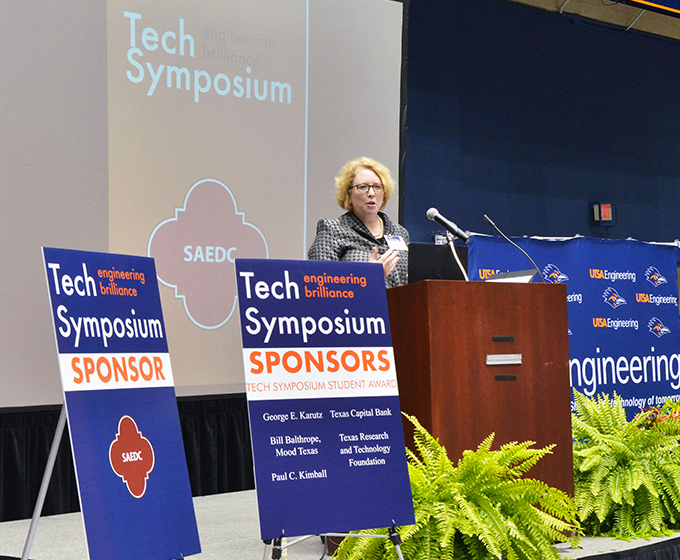 Nov. 25, 2019 — Seniors in UTSA's College of Engineering will this week present their innovative student projects and research at the Tech Symposium.
The event will showcase engineering senior design projects, which are the culmination of engineering undergraduate studies. 
The projects enable all engineering students in their senior year to apply the knowledge and skills accumulated throughout the program to design, develop and implement innovative and relevant engineering products. 
The symposium provides an opportunity for UTSA students to network with industry leaders and differentiate themselves from students at competing universities. 
---
"The Tech Symposium is a hands-on event that gives our students the opportunity to let their brilliance shine."
—JOANN BROWNING, Dean of the College of Engineering
---
---
The showcase, which will be held Nov. 26 in the H-E-B Student Union Ballroom on Main Campus, is free and open to the public. Projects will be on display from 8:45 a.m. to noon. Winners from the symposium will be announced at 1 p.m. 
"The Tech Symposium is a hands-on event that gives our students the opportunity to let their brilliance shine," said JoAnn Browning, dean of the College of Engineering. "Our seniors are participating in cutting-edge work using the knowledge and skills they have acquired during their time here at UTSA. We are shaping the future of engineering." 
---
⇒ Explore the College of Engineering Tech Symposium.
---
Associate professor of mechanical engineering James Johnson encourages his students to view their senior design courses not as college classes but as their first engineering job. Students are required to design, fabricate, test and document a project of their choosing. Through the process, the seniors learn to manage their projects and follow common industry protocols. 
"When our students graduate from the engineering program, we want them to think like professional engineers," said Johnson. 
The symposium will feature work by students in civil engineering, electrical and computer engineering, and mechanical engineering. Their senior design team projects will be on display, as will posters featuring early stage projects. 
Projects this semester include:
3BM Infrared Paint Curing System: 3BM's apparatus demonstrates that infrared paint curing technology can be used on a flat surface as well as complex shapes such as engines. Benefits include reducing utility costs and reducing paint curing time by 60%. 3BM's design can be retrofitted into any existing industrial size paint curing oven with only slight modifications to the height and width of the curing rack.
Globally Available Robotic Arm: This artificial intelligence–enhanced bionic hand for below-elbow amputees aims to outperform higher cost prostheses currently on the market. The product will restore basic and essential mobility to the user by offering dexterous movements driven by an intuitive interface.
Loop 1604 Expansion from Martinez Creek to FM 1346: Students will demonstrate civil engineering plans for a highway expansion.
Modular Wind Turbine Tower: A small wind turbine tower is combined with a meteorological tower in an effort to greatly reduce costs in the small wind energy market.
River North Gas Station: Civil engineering students will showcase the design and traffic, structure, utilities, environmental, hydrology and civil work for a new gas station.
Tuned In: An interactive exhibit that will teach children about the science of sound waves while they complete in challenges to become a "master spy." This exhibit will be installed in the DoSeum after completion of the symposium.
The College of Engineering's senior design teams work together over the course of two semesters, including the time over the mid-semester break. A team of four will log somewhere between 1,600 and 2,000 person-hours (approximately 200 to 250 hours per person per semester) to complete their projects.