Dec. 12, 2019 — To increase the access to a college education for students from low and middle-income families, The University of Texas at San Antonio today launched its UTSA Bold Promise initiative, a groundbreaking program that covers 100% of an undergraduate's tuition and fees for four years.
The Bold Promise program will create opportunities for students from across Texas whose families may not otherwise have been able to afford a college education. An estimated 4,100 newly admitted students could qualify for UTSA Bold Promise in fall 2020.
The Bold Promise program is open to first-time freshmen who are state residents who come from families with an income up to $50,500, the median income in San Antonio, and qualify for admission by ranking in the top 25% of their high school class. Students must have graduated from high school within 16 months of their initial enrollment as first-time freshmen.
---
"UTSA was founded 50 years ago on the belief that San Antonians deserve access to high-quality education and opportunities."
—TAYLOR EIGHMY, UTSA President
---
---
With this program UTSA plans to devote an estimated $41 million in aid, and when coupled with support from existing federal and state programs, UTSA's total aid and scholarship disbursement for fall 2020 will top more than $292 million to enable college going for those in financial need.
"Every day, in everything we do, UTSA students, staff and faculty embrace the ideal that education is the great equalizer of our society," said UTSA President Taylor Eighmy. "UTSA was founded 50 years ago on the belief that San Antonians deserve access to high-quality education and opportunities. Today, with the launch of UTSA Bold Promise, we are reaffirming that commitment and creating a pathway for students from all across the state to pursue higher education and build prosperity for themselves and their families."
The UTSA Bold Promise program could save as much as $80,000 for the De Leon/Uribe family. After their twins, Jennifer and Adrian Uribe, graduate from Lanier High School this year, they expect to enroll at UTSA to study architecture and civil engineering, respectively.
"We are so excited to be among the first students to benefit from the UTSA Bold Promise program," said Jennifer Uribe. "Having our tuition and fees taken care of means we will be able to focus all of our time on studying for our classes and preparing for our careers."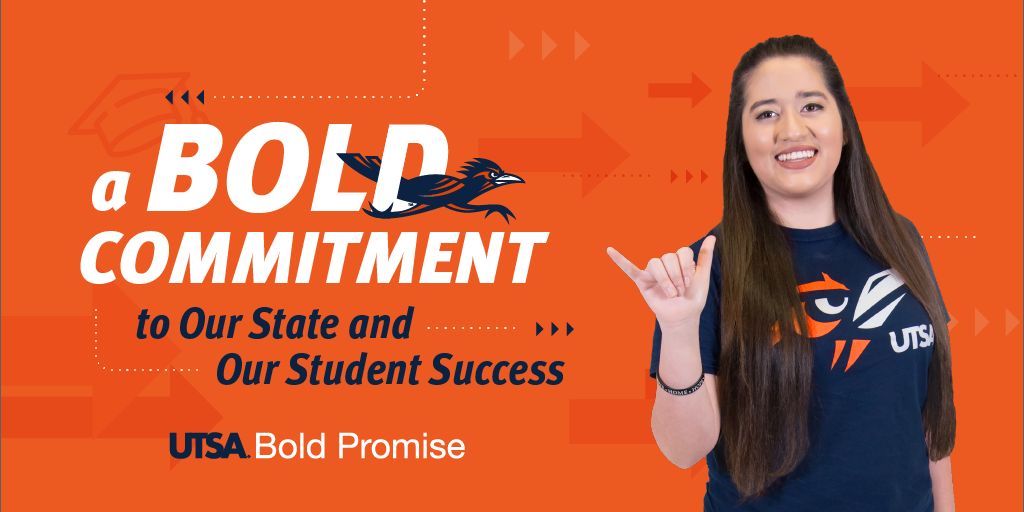 UT System Chancellor James B. Milliken added, "Higher education is the engine of social and economic mobility, and higher attainment levels have far-reaching benefits not only for those who earn a college degree but also the communities in which they live and work. The Board of Regents and I applaud UTSA's commitment to an accessible and affordable college degree."
To be considered for the program, eligible students must be admitted to UTSA and submit a FAFSA/TASFA application by the priority deadline of Wednesday, Jan. 15, 2020. Tuition will be automatically awarded to students who meet qualifications; no separate or additional application is needed. Students in the program will receive aid to support undergraduate tuition and mandatory fee costs for eight consecutive semesters as long as eligibility is maintained.
Once enrolled, Bold Promise students must enroll full-time each semester (12 credit hours or more) and maintain a 2.5 grade point average to continue their eligibility.
---
⇒ To apply to UTSA for fall 2020, visit future.utsa.edu/apply.
⇒ To learn more about the UTSA Bold Promise program, visit www.utsa.edu/promise.
---
"UTSA was founded on the hopes and dreams of generations of San Antonio's culturally rich and predominantly Hispanic population," said Kimberly Andrews Espy, provost and senior vice president for academic affairs. "Through Bold Promise, we will continue to deliver on this important mission by investing university resources to support families and provide students a life-changing opportunity to pursue degree programs that prepare them for success in the jobs of the future."
As part of a larger effort to create pathways for educational excellence for San Antonians, UTSA has assigned designated recruiters to engage with high school students in San Antonio's Westside neighborhood to increase enrollment from the community.
The Hispanic thriving university also established a Westside Scholarship Fund, announced earlier this fall as part of its Presidential Initiative on Westside Community Partnerships, to improve access to higher education for students from the area.