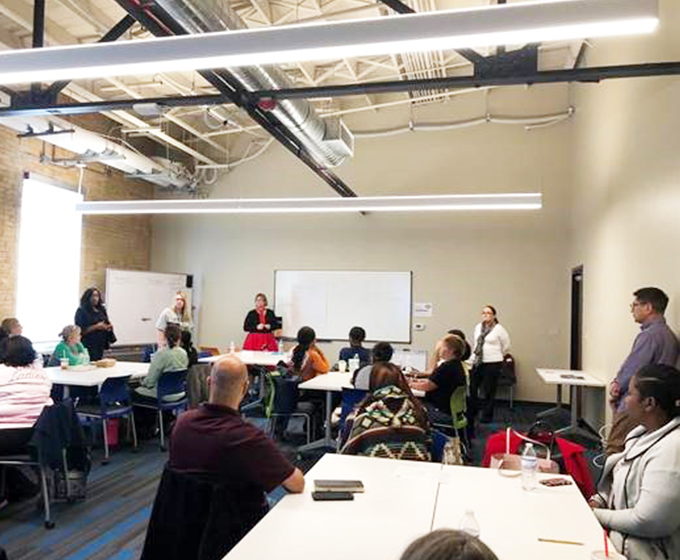 Dec. 12, 2019 — Researchers in the UTSA College of Public Policy, assistant professor of social work Jelena Todic and criminal justice lecturer and restorative justice coordinator Robert Rico are joining forces with Up Partnership and three local school districts in a collaborative applied research project to rethink discipline in San Antonio schools.
The UTSA team is assisting Up Partnership with Rethinking Discipline Community of Practice implementation and process evaluation. The project, funded by the Strive Together Promising Practice Fund grant, is one of the My Brother's Keeper San Antonio collaborative initiatives.
Up Partnership, a nonprofit and community-based organization that facilitates the MBKSA, is dedicated to ensuring that "all young people across Bexar County are ready for the future." My Brother's Keeper San Antonio is a network of cross sector partners, including UTSA, working together to change outcomes for boys and young men of color.
The Rethinking Discipline Community of Practice, which includes nine elementary, middle and high schools in San Antonio from Harlandale, Judson and San Antonio ISDs, is just one of the many initiatives aiming to reach this goal.
The Community of Practice aims to introduce, scale and accelerate implementation of restorative practices in San Antonio schools. Evidence indicates that school-based restorative justice can increase students' sense of school connectedness and decrease suspensions/expulsions, ultimately increasing graduation rates and interrupting school-to-prison pipeline.
Rooted in the practices of the indigenous people of North America and New Zealand and the peace philosophy of the U.S. Mennonite community, restorative justice seeks to involve all impacted by wrongdoing to collectively repair harms and make things right. Any misconduct is a violation of people and relationships rather than a violation of the law or school rules. As a result, violations create obligations to address the needs of those who experienced harm, those responsible for harm, and the community.
Providing an opportunity for those most directly impacted by the harm to be involved in responding to and repairing the harm is a central feature of the restorative process. Ultimately, restorative justice is a relational process that integrates support with accountability.
The research team, which also includes an M.S.W. student, Norma Almazan, has been collecting quantitative and qualitative implementation process data, using it to inform monthly capacity building and problem solving sessions.
The final process evaluation report, due Feb. 1, 2020, will identify implementation facilitators and barriers and evaluate the local implementation efforts against the recommended best practices. The research team hopes the report will assist the local schools, districts and Up Partnership in ongoing strategic planning, resource allocation, and funding efforts.