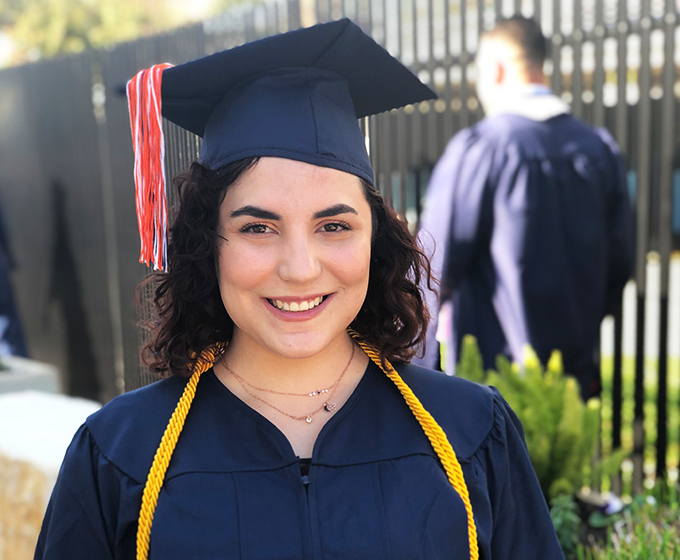 ---
CLASS OF 2019
---
Dec. 23, 2019 — Alix Dubernard graduated this month with a bachelor's in computer science and a minor in cybersecurity. She's the first person in her family to graduate with a bachelor's degree. 
Originally from Mexico City, she migrated to the U.S. at age 11. And although she didn't feel pressure to be the first in her family to achieve the university dream, making a choice about the right path to get there was a challenge. 
"I did not have a passion for anything, and I struggled to find a field in which I had a deep interest," said Dubernard. 
However, her clarity was achieved when she exposed herself to different disciplines at UTSA. During a psychology course she learned about a research project that combined computer science, cognitive thinking and artificial intelligence. This intersection of disciplines piqued her interest so much that on her own time and by scouring the internet, she taught herself the computer programming language python—which is one of the fastest growing coding languages for machine learning. 
---
Her clarity was achieved when she exposed herself to different disciplines at UTSA.
---
---
"I had a passion for this that I had not felt for anything else!" said Dubernard. 
But nothing worth having is ever easy, so she had to overcome some of her fears. 
"Computer science is a male-dominated field and it involves a lot of math, which I was never comfortable with," Dubernard explained. "However, I quickly discovered that I was not so bad at math and that everyone in my classes was very friendly and open." 
Then another turning point came when she was invited to join the Computer Security Association at UTSA. She didn't know much about cybersecurity, but she started to work on security projects outside the university. Grueling hours in training allowed her to become a member of UTSA's elite Blue Team, which took her to competitions across the country, including competing in high stakes venues such as the U.S. Department of Energy's Cyber Force competition. 
"I had a lot of moments when I felt burned out and tired," said Dubernard, who like a true pioneer of her family will now graduate magna cum laude. 
Dubernard won an internship at USAA's information security team, which then led to a full-time position after graduation. 
"I believe that it was all worth it because I have learned a whole lot and had a lot of fun doing it," she said. "It also opened up a lot of opportunities."