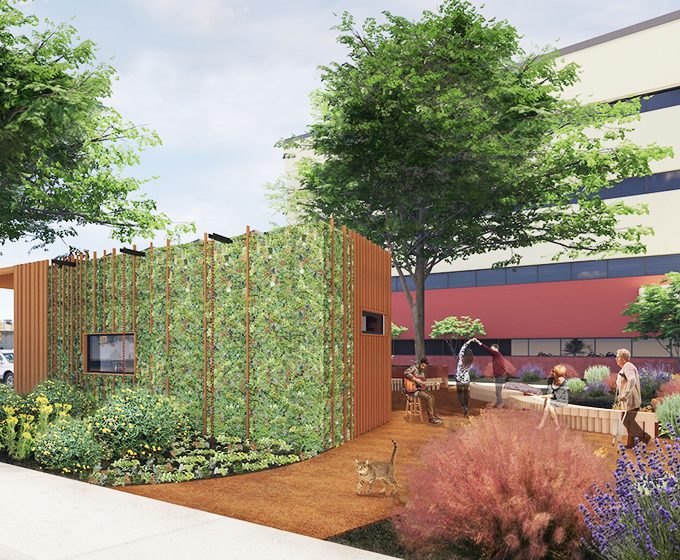 Dec. 6, 2019 — Students in UTSA's College of Architecture, Construction and Planning will be a part of the design, construction and optimization process of a sustainable, universally designed smart home. 
The project will provide architecture students with an opportunity to collaborate with engineering students and incorporate technology in the architecture of a building that serves the end users and preserves the environment. 
Under the leadership of Antonio Martinez-Molina, Neda Norouzi and Miltos Alamaniotis, assistant professors in the Department of Architecture and the Department of Electrical and Computer Engineering, the project is being designed and built as a living laboratory for students, researchers and the San Antonio community. The project consists of five phases: design, construction, commissioning, monitoring and continued optimization. 
---
"This research project positions UTSA at the heart of development for a zero-carbon building future."
—ANTONIO MARTINEZ-MOLINA, Assistant Professor, Department of Architecture
---
---
The home, which will be built on UTSA's Downtown Campus, will provide the ability to replicate the design for a multigenerational family and will be designed to generate, store and release its own renewable energy, making it 100% self-sufficient. It will also serve as a live-work unit and includes a bike repair shop to support UTSA's walkability initiative. 
"This research project positions UTSA at the heart of development for a zero-carbon building future to amplify the research in the areas of low carbon supply, storage and demand that could be replicated in other areas of the United States," said Martinez-Molina.
He added that the United States has one of the oldest and the most energy-consuming populations in the world and this project could have an enormous impact in this country—and at UTSA in particular.
"We are incorporating universal design principle into the architecture and interior design of the building in order to provide a higher quality built environment for people of all ages and abilities," said Norouzi. 
Universal design, by definition, refers to designing products that can be used by everyone, regardless of a person's age, ability or status in life. 
"There are currently 65 million people age 60 and older residing across the country, many of whom prefer to grow old in their own home and community," said Norouzi. "However, only half of these homes meet the physical needs of people who choose to age in place. This project is aiming to serve the needs of 86% San Antonians who want to age in place." 
---
⇒ Learn more about UTSA's Department of Architecture and Department of Electrical and Computer Engineering.
---
The project will include the use of information technology, in particular artificial ntelligence. 
"Artificial intelligence will provide the connecting link between safety, sustainability and resilience," said Norouzi. "AI offers the necessary tools for building systems that identify behavioral patterns in smart homes by collecting and analyzing the data. Artificial intelligence will contribute to automated monitoring and surveillance of residents as well as be used for decision making in maintaining energy sustainability." 
This project combines two very relevant approaches of sustainable universal design that has not been commonly applied in the U.S. 
The combination of universal design with artificial intelligence will provide opportunities for elders and children to use the building and all its product in similar manner as young adults. For example, universal design requires different countertop heights, and AI will allow parents to stand at a counter suitable for their height and lower another counter's height for their child.
By offering higher level of occupants' health, safety and comfort, this building will provide students, academics, practitioners, policymakers and citizens with the knowledge of the available technology to build better buildings and cities.
The construction is expected to start in early 2020 and to finish later in the year.