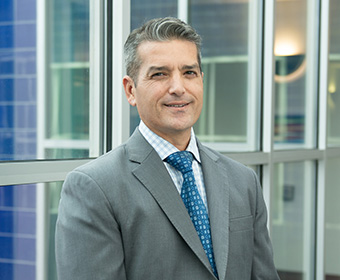 Dec. 18, 2019 — UTSA's Urban Education Institute has been awarded a $344,500 grant from the Charles Butt Foundation to support the institute's mission to produce relevant and actionable research that informs education policymaking, program implementation and philanthropic giving in San Antonio.
The grant will allow the institute to develop cutting-edge research tools for the benefit of area schools and in alignment with UTSA and UEI's shared commitment, as a Hispanic-thriving institution, to create pathways for social and economic mobility for San Antonio's predominantly Hispanic P–12 student population, said Mike Villarreal, UEI director and assistant professor in the Department of Educational Leadership and Policy Studies.
"This grant allows us to develop better diagnostic instruments to determine the health of the schools we work with," he said. "We want to work in a collaborative way with schools, aiming for continuous improvement."
---
"This grant allows us to develop better diagnostic instruments to determine the health of the schools we work with."
—MIKE VILLAREAL, Director of the Urban Education Institute

---
---
The institute plans to use the award to model a system for school improvement based on the 5Essentials system developed by the Urban Education Institute at the University of Chicago. The research-based system provides data and insight into school organizational strengths and areas of opportunity by assessing five essential factors for school improvement: effective leaders, collaborative teachers, involved families, supportive environment and ambitious instruction. The UEI plans to use this framework to create a survey research program that will strengthen public schools in the San Antonio area.
The Urban Education Institute was formed through a UTSA presidential initiative launched in January 2019. Based within the College of Education and Human Development and housed at the Downtown Campus, the institute serves as an educational incubator for transdisciplinary research teams, school districts and community organizations to address equity and access across the P-20 educational spectrum. The institute seeks to amplify the impact of collective efforts to raise San Antonio's educational attainment and economic mobility levels through applied research, developing innovative models that can be used in urban settings across the nation.
"We are so grateful to the Charles Butt Foundation for their support of the Urban Education Institute," said Margo DelliCarpini, dean of the College of Education and Human Development and vice provost for strategic educational partnerships. "This grant will advance our work to prepare future educators, strengthen community partnerships and raise the educational attainment levels and earnings potential of students across San Antonio."
Since its establishment less than a year ago, Villarreal said, the UEI has produced studies that have influenced stakeholders on numerous education topics: Pre-K 4 SA, career and technical education, college financial aid programs, and dual credit programs. The institute now is preparing to release a mobility study of students with special needs with a focus on charter schools. UEI also has formed a research collaboration with the Centers for Applied Science & Technology school network and this year will begin producing annual reports to help CAST campus leaders analyze their incoming freshmen and track the performance of each cohort.
"Working with the Urban Education Institute allows CAST schools to investigate real problems of practice and strengthen our school's capacity for continuous improvement," said Carol Mendenhall, director of program design and professional development for CAST schools.